Introduction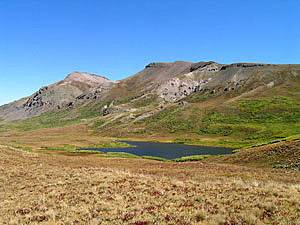 This scenic hike climbs steeply up Cataract Gulch to a pretty lake basin just below the Continental Divide. Along the way the trail ascends through dense woods, passes numerous cascades and waterfalls along Cataract Creek and traverses lovely alpine meadows. A potential off-trail connection to Cuba Gulch extends the trip into an overnight backpack.
Trailhead to Cataract Lake and the Continental Divide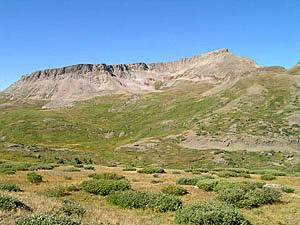 Just beyond the parking area the trail crosses Cottonwood Creek on a bridge and then begins a steep ascent on switchbacks through dense stands of spruce-fir forest. As you climb the trail crosses Cataract Creek five times without the aid of bridges. Generally these crossing are not a problem although you should be prepared to get your feet wet.
During the first 2.0-miles of the hike the trail gains over 2,000-ft. Waterfalls and cascades along Cataract Creek, spectacular displays of wildflowers and an old miner's cabin will help divert your attention from the steep climb. Be sure to turn around when you get to openings in the trees for nice views of Sunshine Peak (14,001-ft.), located to the north (down canyon) across the Lake Fork Valley.
Beyond the 2.0 mile mark the grade eases a bit as the trail climbs through meadows with patches of low lying shrubs. Along this section of the trail views open to Half Peak (13,841-ft.) rising to the west of the trail.
At the 3.0 mile mark the trail becomes markedly easier, ascending on gentle grades through alpine meadows past a few small tarns to Cataract Lake (12,100-ft.), reached 3.8 miles from the trailhead. The lake lies in a pretty meadow decorated with small patch of scrub willows just below the Continental Divide. At this point it is certainly worth walking the additional 0.3 miles south to the divide.
The divide is the turnaround point for day hikers. It is possible to connect with the Cuba Gulch Trail by going west cross country. A map is essential for finding the right route across the 2.0 miles of open tundra to the head of Cuba Gulch. This loop, totaling about 14 miles, is best done as an overnight backpacking trip.