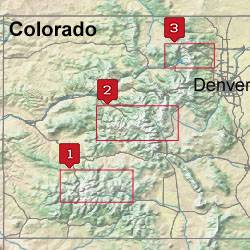 Southwest Colorado - The San Juan Mountains in southwestern Colorado around the towns of Ouray, Telluride, Silverton and Lake City is one of the best day hiking areas of the state.

Central Colorado - The Sawatch and Elk Mountain ranges around Aspen, Leadville, Buena Vista, Crested Butte and Marble offer the quintessential Rocky Mountain hiking experience with glacial valleys leading to vast alpine expanses sprinkled with glistening lakes amid soaring peaks.

Rocky Mountain National Park - Coming soon. Fantastic hiking trails lead to spectacular mountain scenery in this popular 265,000-acre park straddling the continental divide, adjacent to Estes Park in the east and Grand Lake in the west.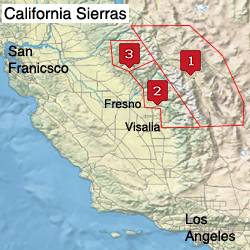 California's Southeastern Sierra - The southeastern Sierra Nevada Mountains, around the towns of Lee Vining, Mammoth Lakes, Bishop and Lone Pine, are a hiker's paradise of rugged peaks, beautiful alpine lakes and gorgeous meadows.

California's Southwestern Sierra - Giant sequoias, peaceful conifer forests, glistening lakes and dramatic mountain scenery tempt hikers to explore the southwestern Sierra Nevada Mountains around Lodgepole and Mineral King in Sequoia-Kings Canyon National Park.

Yosemite - Coming Soon.

Glacier National Park - Glacier National Park is a hikers paradise, with over 700 miles of trails ranging from short nature walks to extended backpacks, traveling through some of the most spectacular and wild country in the Rockies.