This nice hike climbs to a 12,290-ft. saddle on the divide separating the Bowman Creek and New York Creek Valleys. At the divide enjoy great views of American Flag and Italian Mountains and nearby peaks in the Collegiate Peaks and Hunter-Fryingpan Wilderness areas.
See Trail Detail/Full Description
Distance: 8.2 miles (round trip) to Saddle

Elevation: 10,070-ft. at Trailhead
12,290-ft. at Saddle

Elevation Gain: 2,220-ft. to Saddle

Difficulty: moderate-strenuous
More Hikes in:
Aspen / Central Colorado
Why Hike New York Creek
This pleasant, lightly used trail ascends through spruce-fir forests and pretty meadows to a high saddle on the ridge separating the Bowman and New York Creek valleys. From the saddle fine views stretch south to American Flag Mountain (12,713-ft.) and Italian Mountain (13,378-ft.) rising above the Taylor River valley. Difficult Mountain (12,934-ft.), Green Mountain, the Williams Mountains and a sea of peaks in the Collegiate Peaks Wilderness fill the skyline to the north/northeast.
Note that a half mile section of the hike travels along the access road for the aqueduct system that diverts water from New York and Brooklyn drainages to Grizzly Reservoir. From the reservoir a tunnel carries the water under the Continental Divide to the Twin Lakes Reservoir.
Certainly the road and the diversion intakes detract from the scenic value of the hike. That being said, it is a nice hike up a lovely valley where you are likely to run into few other hikers. The trail is a good option if you have done many of the other hikes around the Aspen area and are looking for new territory to explore.
Elevation Profile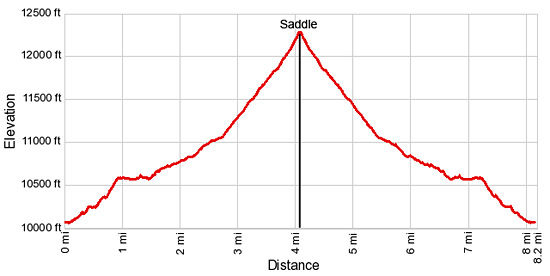 Buy the Book

This opinionated guide includes all the hikes in the Aspen, Buena Vista, Crested Butte, Marble and Leadville sections of the website plus info on local services and nearby attractions.
Trail Resources
Trail Detail/Full Description / Trail Photo Gallery / Trail Map
Basecamp(s) Information:
Aspen
Region Information:
Central Colorado
Other Hiking Regions in:
Colorado