Imposing peaks, pretty waterfalls, stunning lakes, a huge alpine basin and panoramic views from a 12,500-ft. pass encompassing Treasure Mountain, Pyramid Peak and the Maroon Bells are the scenic rewards on this 13-mile (RT) hike to West Maroon Pass.
See Trail Detail/Full Description
Distance: 3.4 miles (round trip) to Crater Lake
13.0 miles (round trip) to West Maroon Pass

Elevation: 9,580-ft. at Trailhead
10,076-ft. at Crater Lake
12,500-ft. at West Maroon Pass

Elevation Gain: 496-ft. to Crater Lake
2,920-ft. to West Maroon Pass

Difficulty: strenuous
More Hikes in:
Aspen / Central Colorado
Why Hike West Maroon Pass
Wonderful views of the Maroon Bells and Pyramid Peak, pretty waterfalls, two stunning lakes and a scenic alpine basin await hikers on this popular 13-mile (RT) hike to West Maroon Pass. The journey follows the Maroon-Snowmass trail to Crater Lake and then climbs the long, narrow West Maroon valley beneath the towering crags of the Maroon Bells and Pyramid massifs.
The pass is located on a ridge at the head of the valley above a huge basin rimmed with maroon cliffs and clad in emerald meadows sprinkled with wildflower. Views from the pass extend west to Treasure Mountain. To the east the Maroon Bells and the Pyramid Peaks fill the skyline.
The popular hike is part of the famous 26.6-mile Four Pass Loop, a backpacking trip climbing four pass over 12,000-ft. in the Maroon-Snowmass Wilderness. With proper planning the route is part of a longer day hike to Crested Butte or a the first segment of a two day trip covering the West and East Maroon trails with overnight accommodations in Crested Butte.
Elevation Profile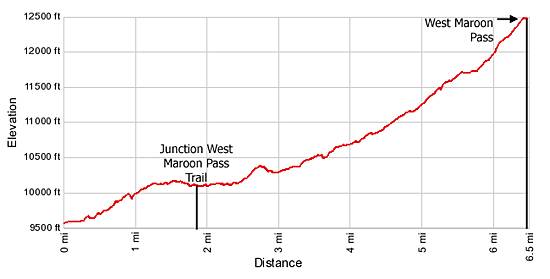 Buy the Book

This opinionated guide includes all the hikes in the Aspen, Buena Vista, Crested Butte, Marble and Leadville sections of the website plus info on local services and nearby attractions.
Trail Resources
Trail Detail/Full Description / Trail Photo Gallery / Trail Map
Basecamp(s) Information:
Aspen
Region Information:
Central Colorado
Other Hiking Regions in:
Colorado