Dramatic views of Bear Creek Canyon, beautiful alpine basins, wildflowers and waterfalls are a few of the delights on this steep trail to visit the saddle (13,050-ft.) on th divide between Bear Creek and Bridal Veil basins. The hike includes an initial 2.0-mile segment of the popular Bear Creek Falls trail.
See Trail Detail/Full Description
Distance: 12.3 miles (round trip) to Wasatch Trail

Elevation: 8,800-ft. at Trailhead
13,050-ft. at Wasatch Trail

Elevation Gain: 4,250-ft. to Wasatch Trail

Difficulty: strenuous
More Hikes in:
Telluride / Southwest Colorado
Why Hike Wasatch Trail
Many people hike beautiful Bear Creek Canyon to the waterfall. Fewer continue beyond, up the canyon on the Wasatch trail.
The steep hike to the upper canyon and into the Wasatch Basin is well worth the effort. In the upper canyon hikers are rewarded with dramatic views of the sculpted and highly eroded walls of the Bear Creek drainage. Beyond the canyon the Wasatch trail traverses beautiful flower-filled alpine meadows nestled in a narrow cirque beneath Wasatch Mountain and the San Joaquin Ridge before climbing to a 13,050-ft. divide separating the Bear Creek and Bridal Veil Basins.
It is possible to make a long loop out of the hike by crossing the saddle and returning via Bridal Veil Basin. Walking the entire loop, including the road down from the Bridal Veil Power Plant and back to downtown Telluride, is about 14.3 miles. The better option is to get dropped at the Bridal Veil Power plant and do the hike in reverse, up Bridal Veil basin and down the Wasatch. This reduces the elevation gain to 2,650-ft from 4,250-ft. and cuts 4.0-miles off the trip. (See the hike to Lewis Lake and Mine for more information on the hike up Bridal Veil basin.)
Elevation Profile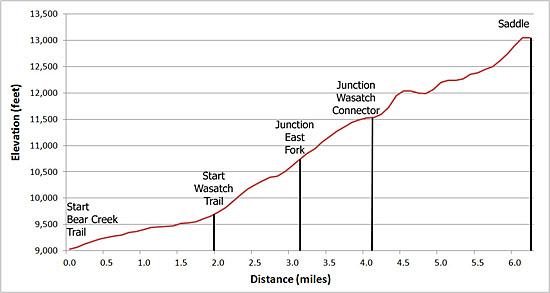 Buy the Book

This opinionated guide includes all the hikes in the Ouray, Telluride, Silverton and Lake City sections of the website plus info on local services and nearby attractions.
Trail Resources
Trail Detail/Full Description / Trail Photo Gallery / Trail Map
Basecamp(s) Information:
Telluride
Region Information:
Southwest Colorado
Other Hiking Regions in:
Colorado