Iceberg Lake
Distance: 5.0 - 9.6 miles (round trip)
Glacier National Park, near Many Glacier in Glacier Natl Park, MT
One of the most popular hikes in the Many Glacier area ascends a scenic valley to stunning Iceberg Lake, an aquamarine jewel cradled beneath a dramatic steep-walled cirque. Along the way enjoy fine views of the peaks surrounding the Swiftcurrent Valley, Ptarmigan Falls and the Ptarmigan Wall.
See Trail Detail/Full Description
Distance: 5.0 miles (round trip) to Ptarmigan Falls
9.6 miles (round trip) to Iceberg Lake

Elevation: 4,960-ft. at Trailhead
5,660-ft. at Ptarmigan Falls
6,170-ft. at Iceberg Lake

Elevation Gain: 700-ft. to Ptarmigan Falls
1,210-ft. to Iceberg Lake

Difficulty: moderate
More Hikes in:
Many Glacier / St Mary / Glacier Natl Park, MT
Why Hike Iceberg Lake
The popular trail to Iceberg Lake ranks among the top hikes in the Many Glacier area. The beautiful alpine lake lies nestled in a spectacular steep-walled cirque. Mt. Wilbur (9,321-ft.), to the south, and Iceberg Peak (9,146-ft.), to the west, soar over 3,000-ft. above the lake's aquamarine waters. Ice floes, calved from snowfields along the lake's western shore, often last well into the summer and in some years still bob along the lake's surface in September.
The scenic trail to the lake ascends along the lower slopes of Mt. Henkel (8,770-ft.) southwest flanks to Ptarmigan Falls, a worthy destination for hikers looking for a shorter day. Along the way the trail enjoys fine views of Mt. Grinnell (8,851-ft.), Swiftcurrent Mountain (8,436-ft.) and Mt. Wilbur (9,321-ft.) towering above the beautiful Swiftcurrent Valley.
Beyond the falls the trail climbs to the head of the valley and then turns west/southwest, traveling on easy grades along the base of the Ptarmigan Wall, a stunning ridge separating the Iceberg Lake and the Wilbur Creek drainage from the Belly River Valley. A profusion of wildflowers fill the meadows on the wall's lower slopes. To the west the dramatic cirque dominates the views.
At the western end of the Ptarmigan Wall the trail turns south, crosses Iceberg Creek and mounts a small rise. At the top of the rise fabulous views open to Iceberg Lake.
Be forewarned you will not be alone on the trail or at the lake. It is best to get an early start to beat the crowds and the afternoon thunderstorms. It is possible, even when the lake is crowded, to find a quiet spot by following one of the use trails that traverse the northeastern shoreline.
Elevation Profile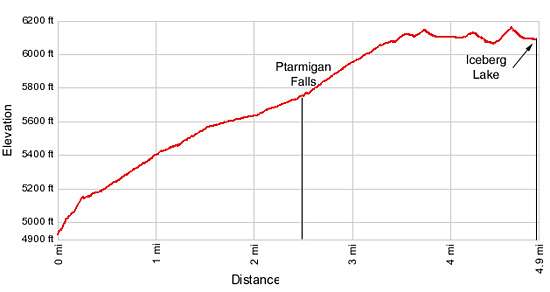 Trail Resources
Trail Detail/Full Description / Trail Photo Gallery / Trail Map
Basecamp(s) Information:
Many Glacier / St Mary
Region Information:
Glacier Natl Park, MT
Other Hiking Regions in:
Montana