Cobalt Lake and Two Medicine Pass
Distance: 9.0 - 15.4 miles (round trip)
Glacier National Park, near Two Medicine in Glacier Natl Park, MT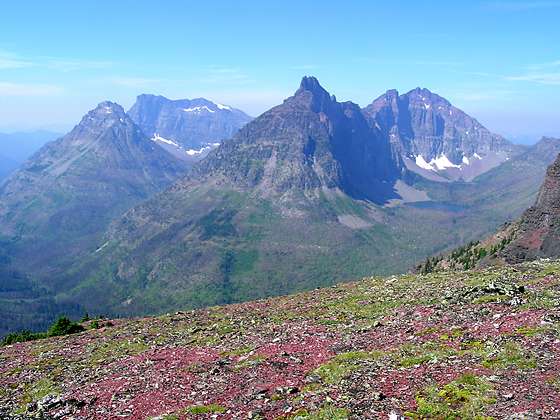 Looking west toward Vigil Peak,Battlement Mountain, Statuary Mountain and Church Butte from Two Medicine Pass

This hike travels up a long, pretty valley to Cobalt Lake and then climbs to a scenic pass on the Continental Divide with panoramic views of the peaks surrounding the Park Creek Valley to the west along with Sinopah Mountain, Mt. Rockwell and Painted Teepee Peak.
See Trail Detail/Full Description
Distance: 9.0 miles (round trip) to Cobalt Lake
15.4 miles (round trip) to Two Medicine Pass

Elevation: 5,180-ft. at Trailhead
6,570-ft. at Cobalt Lake
7,641-ft. at Two Medicine Pass

Elevation Gain: 1,390-ft. to Cobalt Lake
2,502-ft. to Two Medicine Pass

Difficulty: moderate-strenuous
More Hikes in:
Two Medicine / St Mary / Glacier Natl Park, MT
Why Hike Cobalt Lake and Two Medicine Pass
The rugged ridge anchored by Sinopah Mountain (8,271-ft.) to the northeast and Mt. Rockwell (9,272-ft.) to the southwest is your constant companion on the long traverse up a beautiful U-shaped valley to Cobalt Lake. Beyond the lake the trail climbs steeply to a saddle beneath the east face of Mt. Rockwell and then ascends the ridge extending southeast to Two Medicine Pass.
Panoramic views from the top of the ridge and the pass stretch west to Vigil Peak (8,593-ft.), Battlement Mountain (8,830-ft.), Statuary Mountain (8,250-ft.) and Church Butte. Eagle Rib Mountain (8,290-ft) rises to the southwest. To the northeast vistas extend from Cobalt Lake to Two Medicine Lake with great views of Sinopah Peak and Painted Tepee Peak. Mt. Rockwell and the ridge extending to Sinpopah dominate the view to the southwest.
Hikers can shave 2.4 miles (round trip) from the walk by riding the boat to the head of Two Medicine Lake. A trail from the boat dock at the head of the lake is used to access the South Shore trail which connects with the Two Medicine Pass trail leading to Cobalt Lake and Two Medicine Pass
Be advised that the ridge and pass are exposed and can be very windy. Watch for approaching storms and retreat to lower elevations if you see the weather turning for the worse.
Elevation Profile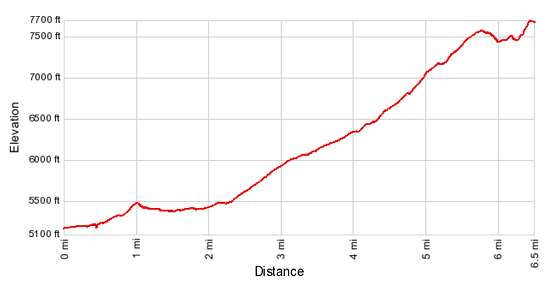 Trail Resources
Trail Detail/Full Description / Trail Photo Gallery / Trail Map
Basecamp(s) Information:
Two Medicine / St Mary
Region Information:
Glacier Natl Park, MT
Other Hiking Regions in:
Montana