Lötschentaler Hohenweg
Distance: 10.8 - 12.8 miles (one way)
near Kandersteg in The Bernese Oberland
Soaring peaks, a glacier-clad cirque, pretty villages, and nonstop views are the hallmarks of this scenic hike traveling high above the north side of the Lötschental. Views stretch up the length of the panoramic valley and south to the high peaks towering above the Valais.
See Trail Detail/Full Description
Distance: 12.8 miles (one way) to Lotschentaler Hohenweg

Elevation: 4,500-ft. at Trailhead
6,950-ft. at Lotschentaler Hohenweg

Elevation Gain: 4,050-ft. to Lotschentaler Hohenweg

Difficulty: strenuous
More Hikes in:
Kandersteg / The Bernese Oberland
Why Hike Lötschentaler Hohenweg
The Lötschentaler Höhenweg travels high along the north side of the Lötschental (Lotschen Valley) between Faldumalp and Fafleralp, accompanied by glorious, nonstop views. Vistas extend up the length of the valley, rimmed by glacier-clad summits, to the Lang and Anun glaciers spilling down the slopes of an impressive cirque at the head of the valley. To the south are distant views of some of the giants towering above the Mattertal in the Valais.
After a steep climb to Faldumalp the trail stays between 5,900 and 6,900-ft. (1,800 and 2,100-meters), wandering through meadows and forests, traveling by pretty villages and visiting the idyllic Schwarzsee, a lovely little lake. Wildflowers and gushing streams add interest to the hike.
The 12.8-mile (20.6-km) hike can be done in either direction. For the best views I prefer to walk up valley, which requires a steep ascent from Ferden to Faldumalp, gaining over 2,100-ft. (640-meters) in 2.2 miles (3.5 km). An easier option is to start at Fafleralp and head down the valley to Faldumalp where a steep trail descends to Ferden. This description describes the hike from Ferden to Fafleralp.
For a shorter 10.8-mile (17.4-km) hike, skip Faldumalp and instead ascend to Restialp where you can pickup the Hohenweg to Fafleralp. The trail to Restialp gains over 2,300-ft (700-km) in 2.1 miles (3.4-km). This description includes information on both starting options.
For any easier day split the Hohenweg into two hikes by using the cable car in Wiler to reach Lauchernalp, eliminating the steep uphill segment. From the top of the cable car walk up valley along the Hohenweg from Lauchernalp to Fafleralp for a 5.8-miles (9.3 km) hike or walk down valley along the Hohenweg from Lauchernalp to Faldumalp and then descend to Ferden for a 7.9 miles (12.7-km) hike.
Elevation Profile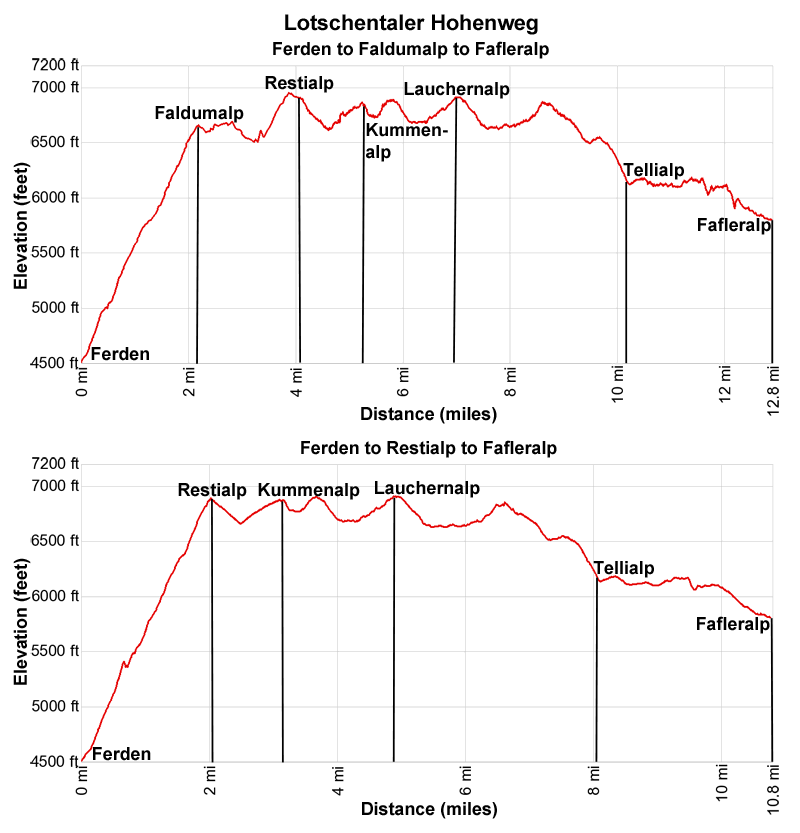 Support our Site
Buy the Book

This opinionated guide includes all the hikes in the Switzerland section of the website plus info on local services and nearby attractions.
Trail Resources
Trail Detail/Full Description / Trail Photo Gallery / Trail Map
Basecamp(s) Information:
Kandersteg
Region Information:
The Bernese Oberland
Other Hiking Regions in:
Switzerland