Stunning, panoramic views of the Matterhorn and the summits rimming the Zermatt area are the highlights of this scenic hike through the stark landscape left by retreating glaciers. En route pass glacial lakes, colorful rock outcroppings and learn about the local geology.
See Trail Detail/Full Description
Distance: 4.1 miles (one way) to Matterhorn Glacier

Elevation: 9,565-ft. at Trailhead
9,625-ft. at Matterhorn Glacier

Elevation Gain: 565-ft. to Matterhorn Glacier

Difficulty: moderate
More Hikes in:
Zermatt / The Valais
Why Hike Matterhorn Glacier
When it comes to views per mile walked you cannot beat the Matterhorn Glacier Trail. The star of the show is the Matterhorn, dominating the view to the west. Competing for your attention are the jagged summits of the Weisshorn, Zinalrothhorn and Ober Gabelhorn to the north, the lofty Dom, Taschhorn and Rimpfischhorn rising to the northeast and the ice-clad peaks stretching from Monte Rosa to the Klein Matterhorn to the east/southeast. Nearer at hand the Theodul and Furgg glaciers spill down the rugged ridge rimming the valley to the south.
After leaving the lift station at Trockener Steg, the trail travels through the stark, barren terrain left by the retreating Theodul and Furgg Glaciers. Along the way the path passes colorful rock outcroppings, visits glacial lakes and features stops at information boards explaining the local geology and natural history.
The hike will take much longer than the mileage indicates. The nonstop views will keep you reaching for your camera and stopping frequently just to take in the amazing vistas.
I strongly recommend getting an early start and picking a clear day for the hike. The Matterhorn is much more likely to be cloud free first thing in the morning. Do not attempt this hike during bad weather of if the weather is threatening to take a turn for the worse. It is difficult if not impossible to follow the route in fog or bad weather. The hike is completely exposed with little chance for cover in the event of the thunderstorm.
While the hike can be walked in either direction, I strongly recommend starting at Trockener Steg. This way the Matterhorn will be right in front of you for most of the hike. You will also have a much more leisurely day since you will be walking downhill.
The one downside of this hike is the pricey lift tickets to get from Zermatt to Trockener Steg and then from Schwarzsee to Zermatt. It is best to have a Swiss Travel Pass or a Swiss Half Card in order to get 50 percent off the ticket price. (See trailhead directions for more information.)
Elevation Profile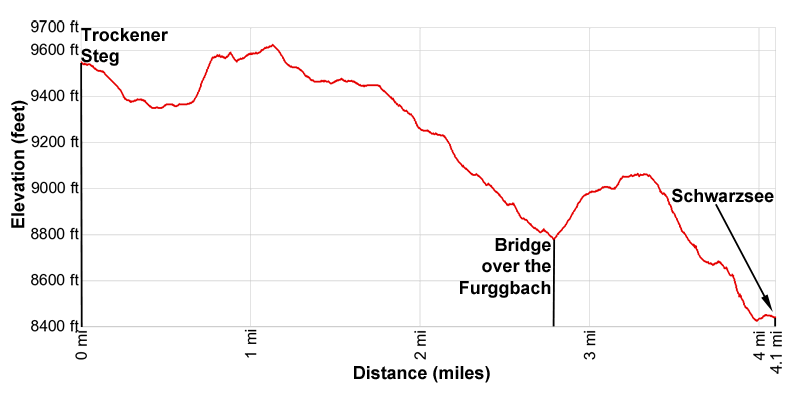 Support our Site
Buy the Book

This opinionated guide includes all the hikes in the Switzerland section of the website plus info on local services and nearby attractions.
Trail Resources
Trail Detail/Full Description / Trail Photo Gallery / Trail Map
Basecamp(s) Information:
Zermatt
Region Information:
The Valais
Other Hiking Regions in:
Switzerland