Navajo Knobs and Rim Overlooks
Distance: 4.5 - 9.4 miles (round trip)
Fruita District, Capitol Reef National Park, near Capitol Reef in South Central Utah
Another great hike in Capitol Reef, the Navajo Knobs trail ascends along a bench with non-stop, birds-eye-views of some of the parks iconic landmarks along with impressive vistas of Waterpocket Fold. Distant views extend to the Henry Mountains and beyond.
See Trail Detail/Full Description
Distance: 9.4 miles (round trip) to Navajo Knobs

Elevation: 5,340-ft. at Trailhead
6,920-ft. at Navajo Knobs

Elevation Gain: 1,580-ft. to Navajo Knobs

Difficulty: moderate-strenuous
More Hikes in:
Capitol Reef / South Central Utah
Why Hike Navajo Knobs and Rim Overlooks
This is another of my favorite trails in Capitol Reef. Almost every step of the Navajo Knobs hike features ever-evolving, panoramic views of the park. The trail also offers a fascinating perspective on the results of geologic uplifting and tilting that exposed layers of Chinle, Wingate, Kayenta and Navajo sandstone during the creation of Waterpocket Fold. Erosional forces then sculpted the rock into colorful cliffs, soaring domes, deep canyons and amazing rock formations.
The hike climbs to and then ascends along a high bench traversing a section of the Waterpocket Fold located to the north of the Fremont River. A dramatic landscape of huge domes and knobs, massive buttes and sheer cliffs composed of Navajo sandstone tower above the trail to the north. To the southeast lie the park's iconic landmarks – the Golden Throne, Pectols Pyramid, Ferns Nipple, and a sea of unnamed Navajo sandstone knobs, blocks and domes layered atop the multihued cliffs of Waterpocket Fold.
The trail offers two destinations, the Rim Overlook at 2.25 miles and the Knobs overlook at 4.7 miles (one-way). If time and energy allow I recommend the longer hike which allows for a greater appreciation of the Fold and the Park's incredible geologic wonders. Beyond the Rim Overlook you will have the trail mostly to yourself, experiencing a degree of solitude that is in short supply on most trails in Utah's National Park.
Travel along this trail is only recommended during spring and the fall when temperatures are cooler. There are no dependable water sources along the trail so carry plenty of water. This trail traverses slickrock ramps, marked with rock cairns. Make sure you pay attention to the cairns to stay on course.
Elevation Profile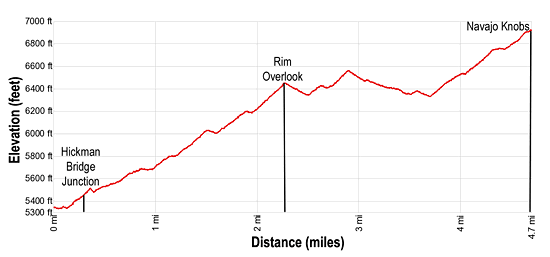 Trail Resources
Trail Detail/Full Description / Trail Photo Gallery / Trail Map
Basecamp(s) Information:
Capitol Reef
Region Information:
South Central Utah
Other Hiking Regions in:
Utah