Cave Canyon Towers (aka Mule Canyon Towers)
Distance: 1.4 miles
BLM, Monticello, Utah office, near Blanding in Southeast Utah
A short, easy hike to the ruins of seven towers located along the rim at the head of Cave Canyon. From the rim enjoy views of additional ruins tucked into alcoves and under ledges along the cliffs on the east/northeast canyon wall.
Distance: 1.4 miles (RT)
Elevation: 6,045-ft. at Trailhead
Maximum elevation - 5,850-ft.
Elevation Gain: -195-ft.
Difficulty: easy
Basecamp: Blanding
Region: Southeast Utah
Trail Description - Cave Canyon Towers (aka Mule Canyon Towers)
From the parking area near the head of the unnamed road off UT-95, 23 miles from Blanding, Utah (see driving directions below), follow the road south to the head of Cave Canyon, a short side canyon branching northwest off Lower Mule Canyon. Walking along the road, composed of pack dirt with sections of slickrock, is easy.
There are seven towers in various states of decay located on the left (east) and right (west) sides of the rim. Much of the first story of one of the towers on the east rim is in very good shape. On the west rim a partial wall with a doorway remains. The other towers are basically piles of rubble.
Be sure to walk around to the west rim for view of additional ruins tucked in alcoves and located beneath overhangs along the cliffs on the east/northeast canyon wall. A pair of binoculars or a zoom lens on a camera is helpful to see the details of the structures and spot some of the ruins further down the canyon. One of the ruins is of good size, with the partial remains of several structures and walls.
The Cave Canyon towers were once multi-storied and in the line of sight with the towers at Mule Canyon Archaeological Ruin. The Mule Canyon Ruins, well-preserved Pueblo surface ruins that are thought to be over 700 years old, are located less than a mile from Cave Canyon. This ruin complex includes above-ground and underground dwellings. Structures at the site include a kiva and tower which have been excavated and stabilized as well as a block of twelve rooms. The site includes interpretive signs and toilets. To reach the site when leaving Cave Canyon Towers, turn left (northwest) on Highway 95 and drive 0.8 miles. Turn right on the signed paved access road.
Elevation Profile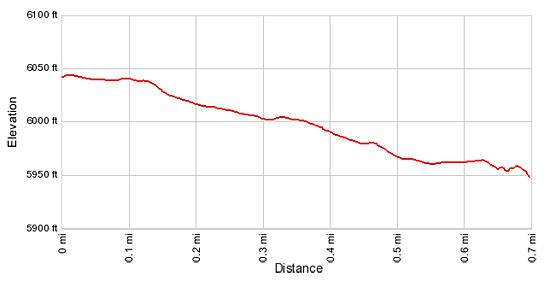 Driving Directions
From Blanding: Drive south on US 191 S for 4 miles and turn right (west) on UT-95 N. Follow UT-95 for 19.1 miles and turn left on an unmarked road. The road is between mile markers 103 and 102. Open and go through the gate, remembering to close it. Hikers driving 2WD vehicles should drive a little over 120 yards and park at the obvious spots on the right (west) side of the road. High clearance and 4WD vehicles can drive up the road almost all the way to Cave Towers, but then you won't get much of a walk.
Trail Resources