A short, relatively easy trail leads to stunning Corona Arch and its fascinating neighbor, Bowtie Arch, situated in a huge sandstone amphitheatre high above the northwest wall of Bootlegger Canyon.
See Trail Detail/Full Description
Distance: 2.5 miles (round trip)

Elevation: 3,990-ft. at Trailhead
Maximum elevation: 4,470-ft.

Elevation Gain: 480-ft.

Difficulty: easy-moderate
More Hikes in:
Moab / Southeast Utah
Why Hike Corona Arch
While over a million visitors flock to Arches National Park each year to see a sandstone wonderland filled with arches, pinnacles and fins, few venture beyond the park to visit the amazing collection of arches on nearby BLM land. One of the most stunning arches outside the park is Corona Arch.
The massive, partially freestanding arch, 140-ft high with a 105-ft opening, is located in a beautiful sandstone amphitheatre high above Bootlegger Canyon just to the west of Moab, UT. A short, interesting trail leads to the arch and its nearby cousin, Bowtie Arch, a fascinating pothole arch. Visual delights along the trail include views of the Colorado River, Pinto Arch, Bootlegger Canyon and the surrounding cliffs.
The trail is a minor obstacle course in a few places. Two short sets of safety cables aid travel along steep slickrock slopes and a small ladder helps hikers to climb a small ledge.
Corona and Bowtie are best visited in the spring or fall when temperatures are moderate, or during the early morning in the summer. There is no shade along the route, making this a brutally hot hike in the summer. Be sure to take plenty of water.
Elevation Profile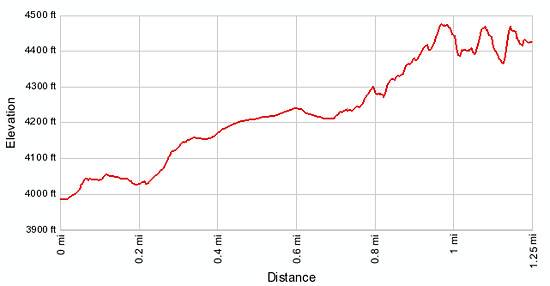 Trail Resources
Trail Detail/Full Description / Trail Photo Gallery / Trail Map
Basecamp(s) Information:
Moab
Region Information:
Southeast Utah
Other Hiking Regions in:
Utah