My favorite trail on the west side of the Tetons features jaw-dropping views of Grand, Middle and South Tetons towering above Cascade Canyon. The long, strenuous trail ascends Table Mountain where views extend from Mount Moran in the north to Mount Bannon in the south.
See Trail Detail/Full Description
Distance: 13.0 miles (round trip) to Table Mountain

Elevation: 6,950-ft. at Trailhead
11,106-ft. at Table Mountain

Elevation Gain: 4,156-ft. to Table Mountain

Difficulty: strenuous
More Hikes in:
Driggs / Jackson / The Tetons
Why Hike Table Mountain
Grand Teton National Park on the east side of the Teton Range is renowned for great hiking trails with stunning views of the Teton Range. Fewer people know about the trails on the west side of the range in the Jedediah Smith Wilderness in Targhee National Forest, which also feature terrific views of the range's majestic granite summits. The trails on the west side typically require more effort before revealing views of the iconic peaks but are not nearly as crowded.
Table Mountain is my favorite west side hike. It is a long, strenuous but truly amazing hike to one of the best viewpoints in the Teton Range. The summit of Table Mountain features breathtaking views of the Range stretching from Mount Moran in the north to the summits rising above Death Canyon to the south. Directly across from the summit of Table Mountain a stunning quintet of the range's iconic peaks; Teewinot Mountain, Mount Owen, Grand Teton, Middle Teton and South Teton fills the skyline.
As you stand atop Table Mountain you can trace the route of the Continental Divide as it runs south from Table Mountain's summit to Hurricane Pass to the high peaks above Alaska Basin to Mount Meeks and the finally the high peaks rimming the Death Canyon Shelf. To the north/northeast are incredible views of the summits towering above Cascade Canyon, the North Fork of Cascade Canyon and Paintbrush Divide. Mount Moran, Thor Peak and Mount Woodring rise beyond Paintbrush Divide. Behind you, to the southwest, the Teton Shelf and the high peaks rimming the South Fork of Teton Canyon dominate the view.
The trail is located on the west side of the range near Driggs, Idaho. See the driving directions below the detailed trail description for information on how to reach the trailhead
Pick a day full of promise and get an early start so you reach the summit of Table Mountain by noon or one o'clock. The summit and west ridge are totally exposed and not the place to be in a thunderstorm. An early start will also buy you a little solitude on the trail especially on the weekends.
Elevation Profile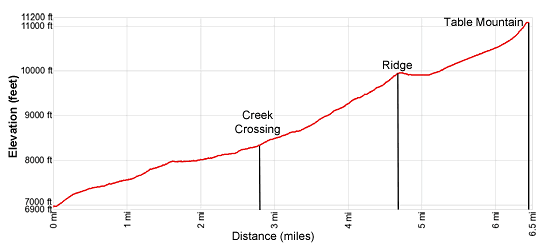 Trail Resources
Trail Detail/Full Description / Trail Photo Gallery / Trail Map
Basecamp(s) Information:
Driggs / Jackson
Region Information:
The Tetons
Other Hiking Regions in:
Wyoming