Jade Lakes, Upper Brooks and Rainbow Lake
Distance: 5.5 - 8.3 miles (round trip)
Shoshone National Forest, near Togwotee Pass in The Tetons
Multi-hued volcanic cliffs towering over 1,000-ft. above a quintet of pretty lakes are the stars of the show on these scenic hikes in the Brooks Lake area in the southern Absaroka Range, located to the east of the Tetons.
See Trail Detail/Full Description
Distance: 5.5 miles (loop) to Jade Lakes Loop
7.4 miles (round trip) to Brooks and Rainbow Lakes
8.3 miles (round trip) to Jade, Brooks and Rainbow Lakes

Elevation: 9,070-ft. at Trailhead
9,625-ft. at Jade Lakes Loop
9,220-ft. at Brooks and Rainbow Lakes
9,625-ft. at Jade, Brooks and Rainbow Lakes

Elevation Gain: 555-ft. to Jade Lakes Loop
186-ft. to Brooks and Rainbow Lakes
770-ft. to Jade, Brooks and Rainbow Lakes

Difficulty: easy-moderate
More Hikes in:
Togwotee Pass / Jackson Hole / The Tetons
Why Hike Jade Lakes, Upper Brooks and Rainbow Lake
The gorgeous Brooks Creek Valley is clad in timber-lined meadows set beneath the sheer volcanic cliffs and pinnacles of the southern Absaroka Range. Five pretty lakes lie cradled in valley's forests and meadows. In the still of the morning the lakes are a photographer's delight, reflecting the stunning, multi-hued formations towering over 1,000-ft. above the valley.
Trails in the valley can be linked to create scenic loops and out-and-back hikes visiting a few or all of the lakes. The shortest hike loops around Upper and Lower Jade Lakes. The out and back hike to Upper Brooks Lake follows the Yellowstone Trail to this beautiful jewel located beneath Bear Cub Pass. A spur trail off the west side of Upper Brooks Lake leads to Rainbow Lake. The hikes to Jade Lakes and Upper Brooks/Rainbow can easily be combined to visit all five lakes while enjoying the terrific views of the cliffs and pinnacle soaring above the Brooks Lakes Valley.
Note: This hike situated in the southern Absaroka Range near Togwotee Pass, located to the east of Grand Teton National Park. The hike is also easily accessible from Dubois, Wyoming.
Elevation Profile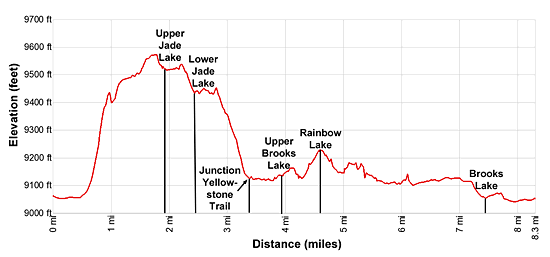 Trail Resources
Trail Detail/Full Description / Trail Photo Gallery / Trail Map
Basecamp(s) Information:
Togwotee Pass / Jackson Hole
Region Information:
The Tetons
Other Hiking Regions in:
Wyoming