Twin Falls and Upper Two Medicine Lake
Distance: 2.2 - 9.8 miles (round trip)
Glacier National Park, near Two Medicine in Glacier Natl Park, MT
This easily hike features stunning views of the peaks surrounding the Two Medicine Valley, visits a beautiful pair of cascading waterfalls and a end at a scenic lake ringed by rugged peaks.
See Trail Detail/Full Description
Distance: 2.2 miles (round trip) to Twin Falls
9.8 miles (round trip) to Upper Two Medicine Lake

Elevation: 5,180-ft. at Trailhead
5,320-ft. at Twin Falls
5,520-ft. at Upper Two Medicine Lake

Elevation Gain: 140-ft. to Twin Falls
340-ft. to Upper Two Medicine Lake

Difficulty: easy
More Hikes in:
Two Medicine / St Mary / Glacier Natl Park, MT
Why Hike Twin Falls and Upper Two Medicine Lake
Terrific views of the Two Medicine Valley, pretty meadows and an opportunity to spot wildlife are a few of the scenic delights on this easy trail to photogenic Twin Falls and beautiful Upper Two Medicine Lake. The trail travels along the north shore of Two Medicine Lake beneath massive Rising Wolf Mountain (9,513-ft.). Openings created by avalanches offer wonderful, unobstructed views of the peaks to the south/southwest including Mt. Ellensworth (8,591-ft.), Never Laughs Mountain (7,641-ft.), Grizzley Mountain (9,067-ft.), Painted Tepee Peak (7,650-ft.) and Sinopah Mountain (8,245-ft.).
The route curves around the head of the lake and then continues southwest to Twin Falls, a beautiful pair of waterfalls cascading down a rocky hillside. Hikers with the time and energy will want to continue beyond the falls to scenic Upper Two Medicine Lake, surrounded by sheer cliffs and rugged peaks.
Parties can ride the tour boat that cruises Two Medicine Lake either one way or round trip to shorten the hike. The boat travels to the head of the lake at regular intervals where trails connect to the Twin Lakes/Upper Two Medicine Lake trails.
Elevation Profile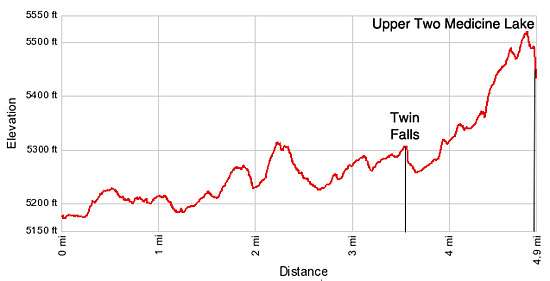 Trail Resources
Trail Detail/Full Description / Trail Photo Gallery / Trail Map
Basecamp(s) Information:
Two Medicine / St Mary
Region Information:
Glacier Natl Park, MT
Other Hiking Regions in:
Montana