Leadville, Colorado Information
Location: Central Colorado
On US-24, 38 miles southwest of Vail and 34 miles north of Buena Vista
Introduction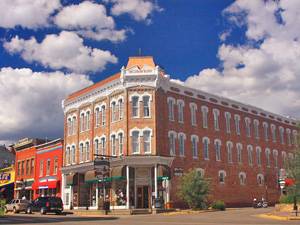 Leadville (10,152-ft.), a Victorian era mining town, lies in a high valley near the headwaters of the Arkansas River between the Sawatch and Mosquito Ranges, 38 miles southwest of Vail and 34 miles north of Buena Vista. The town is surrounded on three sides by the rugged peaks and glaciated valleys of the San Isabel National Forest. To the southwest of town Colorado's two tallest peaks, Mt Elbert (14,433-ft.) and Mt. Massive (14,421-ft.), fill the skyline.
Around Town
Leadville, a booming mining town during the 1880's Colorado gold rush, was once home to more than 30,000 residents with over 100 saloons, dance halls, gambling houses and brothels. Wealth from the mines fueled the construction of stores, hotels, opulent Victorian mansions and even an opera house.
During its heyday a colorful cast of characters passed through town. Future millionaires that got their start during the boom included Meyer Guggenheim, Marshall Fields and David May. The Tabor Opera House attracted the top talent of the day, featuring shows starring Harry Houdini, John Philip Sousa, Oscar Wilde and Sara Bernhardt. The infamous gunfighter and gambler Doc Holiday drifted to town after the OK Corral incident and was later convicted of attempted murder after unsuccessfully trying to kill Billy Allen in Hyman's Saloon.
Today, thanks to preservation efforts, an amazing amount of the town's rich history is still on display. Seventy square blocks of downtown Leadville have been designated a National Historic Landmark of Victorian architecture.
If you like Victorian era architecture take a walk along Harrison Ave, the town's main street, and the adjoining side street to see historic structures – some restored and other still in need of some TLC. A historic walking tour map is available at the local Chamber of Commerce, at 809 Harrison Street.
Mining enthusiast will want to stop at the National Mining Hall of Fame and Museum on 120 W. 9th Street. This excellent museum includes displays, photographs, artifacts and replicas showcasing American mining. Another interesting spot is the Matchless Mine and Baby Doe's Cabin, located 1.25 miles east on East 7th Street. The small museum tells the rags to riches to rags story of Horace Tabor and his second wife Baby Doe. Tabor struck it rich with the Matchless Silver Mine and became Leadville's first multi-millionaire.
A tour of the Hopemore Mine is well worth the time. The guided tour descends 600 feet down a vertical shaft and then takes an underground walking tour of the hard rock mine. Hopemore is located in Leadville's National Historic Mining District at 2921 County Road 1, reached by turning east on E 5th Street from US-24 (Harrison Ave). Call (719) 486-0301 for more information.
For a view of what life was like during the boom era visit the Healy House Museum and Dexter Cabin at 912 Harrison Street. Healy House, an 1878 Greek Revival clapboard house, features lavish Victorian furnishing collected in Leadville. The neighboring Dexter Cabin, built in 1879, is a surprising plush log cabin owned by a wealthy local.
Tour the Tabor Opera House, at 308 Harrison Street, and Horace Tabor's first Leadville home, located at 116 E. 5th Street, for different views of life during the mining boom. Victorian furniture along with relics from the mining era are also on display at the Heritage Museum on 102 E 9th Street.
Nearby Attractions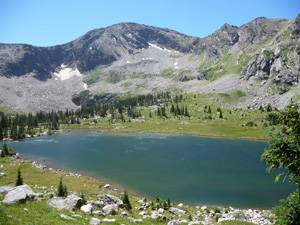 If you need a day off from hiking there is plenty to do around the Leadville area. The Turquoise Lake Recreation Area and the Twin Lakes Reservoir offer opportunities for fishing, boating, biking and picnicking. Take some time to wander the town's back streets to see the historic buildings. You can also take a boat trip or hike to Interlaken, an historic site preserving an old resort. To reach Turquoise Lake follow US-24 to the south end of town, turn west on County Road 4/McWethy Drive and then follow the signs to the lake. The Twin Lakes Reservoir is located south of Leadville at the intersection of US-24 and CO-82, the road to Independence Pass.
Extend the trip to Twin Lakes with a drive to Independence Pass at 12,095-ft, one of the highest paved passes in the United States. The drive features wonderful views of the surrounding peaks and forests. At the pass a paved trail leads from the parking area to a viewing platform at 12,135-ft. with panoramic views of the glacier-sculpted Colorado Rocky Mountain peaks. The pass is located on CO-82, 23.5 miles west of the intersection with US-24 and 38 miles from Leadville.
Seventeen miles north on US-24 are the remnants of Camp Hale, home of the 10th Mountain Division where troops were trained in Alpine and Nordic skiing and winter survival techniques during World War II. Historic plaques explaining the history of the camp and its construction are located throughout the site.
Just south of town is the Leadville National Fish Hatchery, the second oldest fish hatchery in existence. Visitors can tour the hatchery, feed the fish and learn about the fish production process. The Hatchery includes nature trails, a picnic area and playground. Reach the hatchery by driving south on US-24 for about three miles beyond downtown and then turning west on CO-300. Follow CO-300 for 2.2 miles to the hatchery.
If you are interested in railroad history hike the easy Colorado-Midland trail. The trail follows sections of the railroad bed of the first standard narrow gauge line to cross the Continental Divide and ends at the Hagerman Tunnel at 11,528-ft. Along the way the trail traverses pretty meadows, visits two small lakes and passes the remains of trestles, snow sheds, cuts through solid rock and the ruins of Douglass City, which housed immigrants that built the line.
Food, Lodging and Services
For a small town of just 2,600 people Leadville has a pretty good selection of lodging, restaurants and bars and retail shops. Accommodations range from small hotels and B&B's in historic buildings to more modern motels. There is also a reasonable selection of vacation rentals, cabins and condos around town.
If you prefer to camp there are large developed campgrounds at the Turquoise Lake Recreation Area and Twin Lakes Reservoir. The surrounding national forest also has plenty of established camping areas along with opportunities for dispersed camping.
The main tourist information center is located at 809 Harrison Ave. The Safeway at 1900 N Poplar St at the north end of town is well stocked with the basics for making a good meal. If you are in need of books, maps or outdoor supplies check out Leadville Outdoors at 225 Harrison Ave.
For a caffeine fix, baked goods and internet access check out City on a Hill at 508 Harrison. They also make breakfast and sandwiches for lunch.
Mountain Laundry, on 1707 N Poplar St, provides basic laundry facility and showers.
View Hikes by Area:
Central ColoradoAspenBuena VistaCrested ButteLeadvilleMarble