Alta Peak offers some of the best views in the southern Sierras. From its lofty summit breath-taking vistas extend from the Sierra Crest, the Great Western Divide and the Kaweah Peaks to the foothills of the San Joaquin Valley.
See Trail Detail/Full Description
Distance: 13.8 miles (round trip) to Alta Peak

Elevation: 7,280-ft. at Trailhead
11,204-ft. at Alta Peak

Elevation Gain: 3,924-ft. to Alta Peak

Difficulty: strenuous-difficult
More Hikes in:
Lodgepole / California's Southwestern Sierra
Why Hike Alta Peak
A stunning panorama, encompassing the Great Western Divide, the Kaweah Peaks, the Tablelands, the Middle Fork of the Kaweah Valley and beyond, awaits hikers at the summit of Alta Peak (11,204-ft.). Reaching these amazing views involves a long, strenuous climb gaining almost 4,000-ft. in 6.9 miles.
The great views start 2.8 miles into the hike as the trail passes through Panther Gap (8,450-ft.) and then follows a mile long traverse along the north wall of the Middle Fork Kaweah valley. After walking another mile through pleasant forest fine views open to the Great Western Divide and the Middle Fork Kaweah valley as the trail climbs around Tharps Rock and then ascend steeply beneath the southwest ridge of Alta Peak to the summit.
With an early start strong, acclimatized hikers can reach the summit on a long day hike. Hikers who prefer to a more leisurely approach will find good camping sites at Mehrten Meadow and Alta Meadow, allowing the peak to be climbs over a 2-day backpacking trip.
Elevation Profile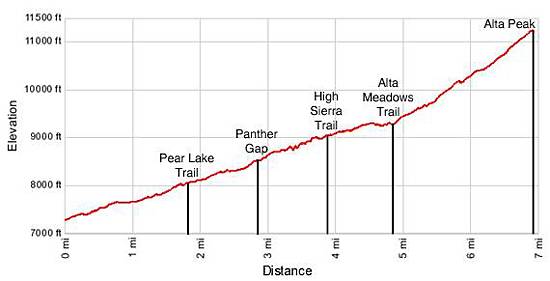 Trail Resources
Trail Detail/Full Description / Trail Photo Gallery / Trail Map
Basecamp(s) Information:
Lodgepole
Region Information:
California's Southwestern Sierra
Other Hiking Regions in:
California