Browns Pass via Denny Creek
Distance: 7.6 - 10.2 miles (round trip)
Collegiate Peaks Wilderness, San Isabel National Forest, near Buena Vista in Central Colorado
The ascent of the Denny Creek valley to Brown's pass features terrific view of the 14er's in the Collegiate Peaks Wilderness. Extend the hike with a high traverse to a saddle overlooking the North Cottonwood Creek with more great views of the high peaks of the Sawatch Range.
See Trail Detail/Full Description
Distance: 7.6 miles (round trip) to Browns Pass
10.2 miles (round trip) to North Cottonwood Creek Divide

Elevation: 9,910-ft. at Trailhead
12,020-ft. at Browns Pass
12,550-ft. at North Cottonwood Creek Divide

Elevation Gain: 2,110-ft. to Browns Pass
2,640-ft. to North Cottonwood Creek Divide

Difficulty: moderate-strenuous
More Hikes in:
Buena Vista / Central Colorado
Why Hike Browns Pass via Denny Creek
Brown's Pass on the Continental Divide in the Collegiate Peaks Wilderness features great views of prominent 14,000-ft. peaks in Sawatch Range. For even better views extend the hike by climbing to a high saddle on the divide between Texas Creek and the North Cottonwood Creek Valleys.
Initially the trail ascends along an old dirt road up the Denny Creek valley. Past the turnoff for the trail to Mt. Yale intermittent views open to Mt. Yale (14,196-ft.) to the east, Mt. Princeton (14,197-ft.) to the south and the peak rising along the west side of the valley.
Beyond the split off for the path to Hartenstein Lake the trail turns north, ascending through trees along the west side of the valley. Near the head of the valley the trail crosses the creek and then climbs through willows and meadows to Brown's Pass (12,020-ft.) on the Continental Divide.
From the pass views stretch north/northwest to the high peaks along the Continental Divide rising above Texas Creek including the Three Apostles. In the distance, Mt. Harvard (14,420-ft.), Mt. Oxford (14,153-ft.), Mt. Belford (14,197-ft.) and Emerald Peak (13,904-ft.) rise beyond the Divide. To the south Mt Antero (14,276-ft.) punctuates the skyline above a sea of peaks in the Sawatch Range. Turner Peak (13,237-ft.) dominates the view to the southwest.
After enjoying the pass I highly recommend extending the hike to the divide separating the Texas Creek and North Cottonwood Creek valleys. The climb to the divide enjoys ever expanding views of the peaks seen from Brown's Pass in addition to distant views of the Elk Mountains to the west. From the saddle views extend northeast to Mt. Columbia (14,073-ft.) and southeast to Mt. Yale.
With a car drop or second vehicle, hikers can continue over the east side of the divide on a trail that drops down to Kroenke Lake and then descends to the North Cottonwood Creek trailhead.
Don't attempt to walk to the divide if the weather is threatening. The trail is totally exposed and not a place to be during a lightning storm.
Elevation Profile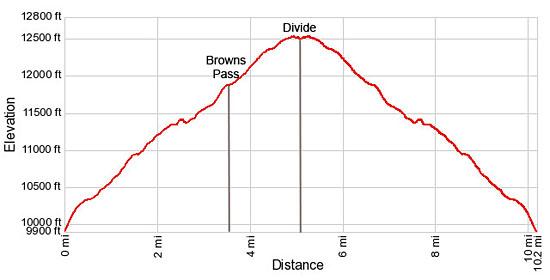 Buy the Book

This opinionated guide includes all the hikes in the Aspen, Buena Vista, Crested Butte, Marble and Leadville sections of the website plus info on local services and nearby attractions.
Trail Resources
Trail Detail/Full Description / Trail Photo Gallery / Trail Map
Basecamp(s) Information:
Buena Vista
Region Information:
Central Colorado
Other Hiking Regions in:
Colorado