Brush Creek
Distance: 4.3 miles
Gunnison, near Crested Butte in Central Colorado
A short, easy hike through meadows awash with wildflowers along the west side of the East River valley offers fine views of Teocalli Mountain, White Mountain and the unnamed summits rising to the northeast of the East River.
Distance: 4.3 miles (RT)
Elevation: 8,930-ft. at Trailhead
Maximum elevation - 9,080-ft.
Elevation Gain: 150-ft.
Difficulty: easy
Basecamp: Crested Butte
Region: Central Colorado
Trail Description - Brush Creek
Brush Creek is a great option for anyone short on time or looking for an easy, scenic hike near Crested Butte. Located 2.0 miles south of town, the trail wanders through lovely meadows along the west side of the East River. Crested Butte Mountain looms above the trail to the west while Teocalli Mountain (13,208-ft.), White Mountain (13,401-ft.), WSC Peak (12,779-ft.) and nearby unnamed peaks fill the skyline to the southeast. The East River meanders down the valley floor.
The trail, actually an old jeep road, ascends on easy grades through meadows to a high point at 1.0 mile. From this vantage point views stretch northeast up the Brush Creek valley to Italian Mountain (13,378-ft.). The trail then drops down to cross a creek at 1.35 mile and then descends to meadows near the river. Our trail ends at a "Y" intersection where the main jeep road curves to the right and soon dead ends at an irrigation canal to the west of the river (2.15 miles). Turn around at the intersection and retrace your steps to the trailhead.
This trail is highly recommended in July when wildflowers blanket the hillsides. It is a good option when the high country is socked in with bad weather or you simply looking for a short hike to stretch your legs. Walk out along the trail as far as you like. In season the wildflowers are everywhere, you won't be disappointed.
Elevation Profile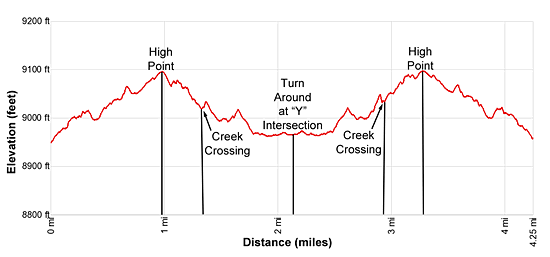 Driving Directions
From Crested Butte: Head south on Highway 135 for 2 miles and then turn left onto Country Road 738 (Brush Creek Road). Follow Brush Creek Road for 1.9 miles. Along the way the road surface will turn to dirt. Turn left into the signed trailhead parking lot on the west side of the road.
Trail Resources