Frigid Air Pass
Distance: 9.6 miles (round trip)
Maroon Bells-Snowmass Wilderness, White River National Forest, near Crested Butte in Central Colorado
Hikers ascending the beautiful East Fork Valley to Frigid Air pass are rewarded with stunning views of the Maroon Bells, Snowmass Mountain and the nearby peaks of the Elk Mountains. In season the East Fork is famous for its spectacular displays of wildflowers.
See Trail Detail/Full Description
Distance: 9.6 miles (round trip) to Frigid Air Pass

Elevation: 10,420-ft. at Trailhead
12,415-ft. at Frigid Air Pass

Elevation Gain: 1,995-ft. to Frigid Air Pass

Difficulty: moderate-strenuous
More Hikes in:
Crested Butte / Central Colorado
Why Hike Frigid Air Pass
This hike offers a totally different perspective on the Maroon Bells, viewing this famous massif from Frigid Air Pass, a high saddle to the southwest side of the peaks. The scenic hike starts from Schofield Park and ascends the beautiful East Fork valley, renowned for its spectacular display of wildflowers during the height of the summer. As the trail gains height, fine views open to the surrounding peaks including Mt. Bellview (12,519-ft.), Treasure Mountain (13,462-ft.) and Galena Mountain (12,580-ft.).
At the head of the valley the trail splits, with the path to the right (east) heading toward West Maroon Pass. We turn left (northwest), following an ascending traverse along an undulating trail through beautiful meadows to the bowl beneath Peak 12648. Here a short, steep climbs leads to Frigid Air Pass (12,415-ft.) with stunning views of Maroon Bells towering above the emerald green meadows of Fravert Basin. Snowmass Mountain (14,092-ft.) and Hagerman Peak (13,841-ft.) dominate the view to the southwest.
Optional extensions to the hike visit West Maroon Pass or the Hasley Basin with more great views of the Elk Mountains and the peaks in the Raggeds Wilderness.
This trail is a favorite of hikers and backpackers. Backpackers use a portion of the trail as part of the popular 26.6-mile Four Pass Loop, a 3-5 day backpacking trip climbing four 12,000-ft. mountain passes in the Maroon Bells-Snowmass Wilderness. So expect to see plenty of backpackers, along with day hikers, along this terrific trail.
Elevation Profile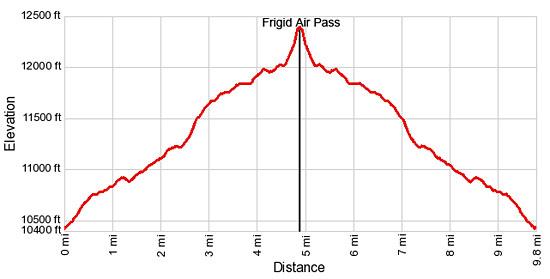 Buy the Book

This opinionated guide includes all the hikes in the Aspen, Buena Vista, Crested Butte, Marble and Leadville sections of the website plus info on local services and nearby attractions.
Trail Resources
Trail Detail/Full Description / Trail Photo Gallery / Trail Map
Basecamp(s) Information:
Crested Butte
Region Information:
Central Colorado
Other Hiking Regions in:
Colorado