North Pole Basin
Distance: 7.0 miles (round trip)
Maroon Bells-Snowmass Wilderness, White River National Forest, near Crested Butte in Central Colorado
Few hikers know about the gorgeous North Pole Basin. Scenic highlights include pristine meadows, cascading waterfalls, wildflowers and rugged peaks. A short off-trail stint leads to a saddle with breathtaking views of the high peaks of the Elk Mountains.
See Trail Detail/Full Description
Distance: 7.0 miles (round trip) to North Pole Basin

Elevation: 10,360-ft. at Trailhead
12,190-ft. at North Pole Basin

Elevation Gain: 1,830-ft. to North Pole Basin

Difficulty: moderate-strenuous
More Hikes in:
Crested Butte / Central Colorado
Why Hike North Pole Basin
Until June of 2013 the stunningly beautiful North Pole Basin was off limits to the public. Thankfully the Rocky Mountain Biological Laboratory (RMBL) and the Crested Butte Land Trust (CBLT) purchased the 160-acre basin, previously used as a private resort, to preserve the land and ensure public access to the property. Since few people know about this beautiful secluded basin hikers can expect a degree of solitude not found on many trails in the area.
The basin, cradled in a long, narrow cirque form by Galena Mountain (12,580-ft.), Treasure Mountain (13,462-ft.) and Crystal Peak (12,632-ft.), features lovely waterfalls cascading through pristine alpine meadows filled with wildflowers during the height of the summer. Small ponds, some man-made, are spread along the valley floor, linked by a sinuous stream.
The terrific hike up the basin follows an old mining road through the RMBL/CBLT property and onto the National Forest land beyond. Views initially encompass the basin and its surrounding peaks. As the trail gains height vistas of the Maroon Bells and the peaks at the head of the East Fork valley unfold to the east.
The road ends in the meadows beneath Treasure Mountain. From there it's an easy climb to the saddle on the ridge between Treasure Mountain and Crystal Peak. The saddle enjoys stunning views of the Maroon Bells to the east. The pretty meadows of Bear Basin lie beneath the saddle to the west. Capitol Peak (14,130-ft.), Snowmass Mountain (14,092-ft.) and the peaks surrounding the Geneva Lake basin dominate the view to the north while a sea of summits in the Elk Range fills the skyline to the northwest. Closer at hand is Crystal Peak rising along the ridge to the northeast of the saddle.
The land owned by RMBL/CBLT is used for sensitive research. No dogs or bicycles are allowed and no fishing or hunting is permitted on the property. Hikers walking through the lower basin will likely see areas cordoned off for field research. Please respect these closures.
Elevation Profile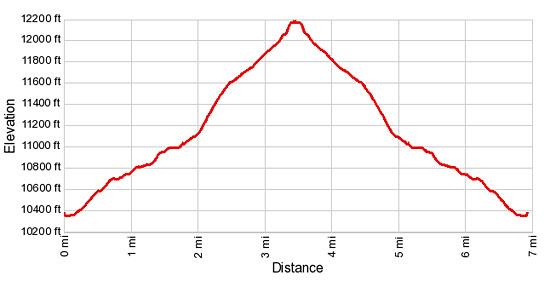 Buy the Book

This opinionated guide includes all the hikes in the Aspen, Buena Vista, Crested Butte, Marble and Leadville sections of the website plus info on local services and nearby attractions.
Trail Resources
Trail Detail/Full Description / Trail Photo Gallery / Trail Map
Basecamp(s) Information:
Crested Butte
Region Information:
Central Colorado
Other Hiking Regions in:
Colorado