Oh Be Joyful and Blue Lake
Distance: 13.2 miles (round trip)
Raggeds Wilderness, Gunnison National Forest, near Crested Butte in Central Colorado
This hike ascends the beautiful Oh Be Joyful Valley through wildflower-filled meadows to pretty Blue Lake cradled beneath Purple Mountain and Afley Peak. Along the way views unfold to the panorama of 12,000-ft. peaks ringing the head of the valley.
See Trail Detail/Full Description
Distance: 13.2 miles (round trip) to Oh Be Joyful/Blue Lake

Elevation: 8,960-ft. at Trailhead
11,075-ft. at Oh Be Joyful/Blue Lake

Elevation Gain: 2,115-ft. to Oh Be Joyful/Blue Lake

Difficulty: moderate-strenuous
More Hikes in:
Crested Butte / Central Colorado
Why Hike Oh Be Joyful and Blue Lake
This long, scenic trail climbs the Oh Be Joyful valley to pretty Blue Lake (11,075-ft.), nestled beneath Purple and Afley Peaks in the Ruby Range. Initially the trail ascends an old mining road which gives way to a trail ascending a steep-walled "U" shaped valley clad in timber and beautiful wildflower-filled meadows. Several waterfalls along with views of Mount Emmons and Peeler Peak add interest to the walk.
As the trail ascends the valley views open to Schuylkill Mountain and then the peaks forming the valley's headwall. Richmond Mountain (12,501-ft.) towers above Democrat Basin to the northwest while Hancock Peak (12,410-ft.), Oh Be Joyful Peak (12,420-ft.) and Afley Peak (12,646-ft.) dominate the view to the west. Near the head of the valley Purple Peak (12,820-ft.) joins the scene to the southwest.
Soon the trail climbs the slopes at the head of the valley and turns south toward Blue Lake, traveling along a bench beneath Little Silver Basin. A final short, steep climb leads to the shelf cradling Blue Lake. Purple Mountain and Afley Peak form the backdrop for this pretty lake. The cliffs of the Scarpa Ridge rim the lake basin to the south. Schuylkill Mountain (12,146-ft.) dominates the views to the northeast.
Except for the final short steep climb to the lake this trail travels along easy to moderate grades but is rated as moderately-strenuous due to the length of the hike. For a shorter day simply hike up the valley as far as time and energy allow. During late July and early August the meadows are adorn with wildflowers making this a very scenic walk, no matter your destination.
Elevation Profile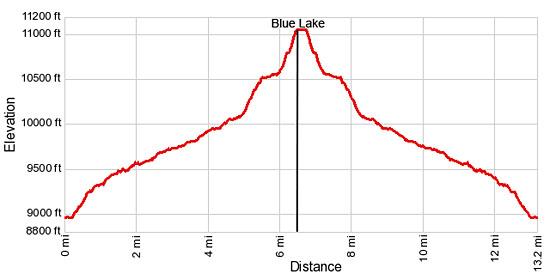 Buy the Book

This opinionated guide includes all the hikes in the Aspen, Buena Vista, Crested Butte, Marble and Leadville sections of the website plus info on local services and nearby attractions.
Trail Resources
Trail Detail/Full Description / Trail Photo Gallery / Trail Map
Basecamp(s) Information:
Crested Butte
Region Information:
Central Colorado
Other Hiking Regions in:
Colorado