Yule Pass
Distance: 4.9 miles (round trip)
Gunnison National Forest, near Crested Butte in Central Colorado
Panoramic views accompany every step of this great, easy hike along an old mining road to Yule Pass, where sweeping views extend to the peaks rising beyond Yule Creek, Purple Canyon and the Upper Slater River Valleys. Near at hand Purple and Treasure mountains tower overhead.
See Trail Detail/Full Description
Distance: 4.9 miles (round trip) to Yule Pass

Elevation: 11,250-ft. at Trailhead
11,715-ft. at Yule Pass

Elevation Gain: 465-ft. to Yule Pass

Difficulty: moderate
More Hikes in:
Crested Butte / Central Colorado
Why Hike Yule Pass
WARNING: This trail is no longer recommended due to its deteriorated condition which poses a high risk for hikers. Rock slides and avalanches have obliterated sections of the road/trail which are now spanned by narrow, boot beaten trails with unstable footing and a lot of exposure. Check on current conditions at the Crested Butte Visitor Center. A better option is to pick another trail.
It is not often that you find a short, easy trail to a scenic pass that starts above timberline and features nonstop views. But that is the perfect description of the hike to Yule Pass.
Most of the work gaining elevation is done by driving your car to Paradise Divide at 11,250-ft. Here you will find the Yule Pass trail, which follows an old mining road carved into the talus fields along the steep flanks of Cinnamon and Treasure Mountains high above Purple Canyon. Over the length of the hike the trail gains a little over 450-ft. to the pass.
Great views accompany every step of the hike. Purple Mountain (12,958-ft.) and Treasure Mountains (13,462-ft.) tower above steep-walled Purple Canyon channeling the nascent Slate River far below the trail. To the southwest vistas extend down the length of Purple Canyon to the Slate River Valley and the peaks beyond.
At the head of the valley the trail climbs to Yule Pass, situated on the saddle between Purple and Treasure Mountains. Mount Justice, Marble Peak, Rugged Mountain and Chair Mountain form the backdrop for the Yule Creek Valley to the west. Cinnamon Mountain, Gothic Peak and Mount Crested Butte dominate the view to the east. Treasure and Purple Mountains soar overhead while below you the Slate River tumbles down the canyon floor.
Wait for the snow to melt, usually in late July, before attempting this hike. Several steep snowfields that typically cover segments of the road beneath Treasure Mountain are extremely dangerous.
Elevation Profile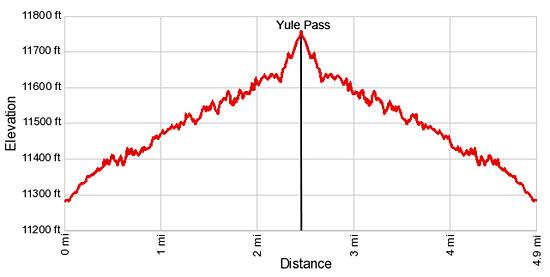 Buy the Book

This opinionated guide includes all the hikes in the Aspen, Buena Vista, Crested Butte, Marble and Leadville sections of the website plus info on local services and nearby attractions.
Trail Resources
Trail Detail/Full Description / Trail Photo Gallery / Trail Map
Basecamp(s) Information:
Crested Butte
Region Information:
Central Colorado
Other Hiking Regions in:
Colorado