This great half day hike ascending Mesa Seco features splendid views of the San Juan Range rising to the west of the Lake City area along with the Slumgullion Earthflow, a huge, slow-moving landside that broke off the west side of mesa.
See Trail Detail/Full Description
Distance: 5.0 miles (round trip) to Cannibal Plateau

Elevation: 11,050-ft. at Trailhead
12,360-ft. at Cannibal Plateau

Elevation Gain: 1,900-ft. to Cannibal Plateau

Difficulty: moderate-strenuous
More Hikes in:
Lake City / Southwest Colorado
Why Hike Cannibal Plateau
Mesa Seco rises above the Alfred Packer Massacre Site, located to the south of Lake City. In the winter of 1874 Packer is believed to have murdered and ate his four travel companions in the vicinity. This half day hike, which climbs the southeast slopes of Mesa Seco to an overlook on the western edge of the mesa, is named after the incident.
The climb to the mesa is accompanied by fine views of the peaks rimming the south side of the Lake Fork of the Gunnison and the summits rising to the southeast of the mesa, including Baldy Cinco and Baldy No Es Cinco. A short detour atop the mesa leads to an overlook with dramatic, birds-eye-views of the Slumgullion Earthflow, where a part of the Mesa broke off and slid down the hillside. The large, slow-moving landslide extends for 4 miles and covers over 1,000-acres.
Beyond the overlook the trail continues ascending to a point where hikers leave the path and blaze a route through the tundra to viewpoints along the Mesa's western ridge. Here terrific vistas open to the high peaks in the San Juan Range including Uncompahgre Peak, Matterhorn Peak, Wetterhorn Peak, Redcloud Peak, Sunshine Peak, Red Mountain and the summits along the Lake Fork.
Hikers can extend the hike by continuing up the ridge crest toward one of the high points on the mesa, accompanied by nonstop views, or turn around and return to the trailhead for a 5.0 mile round-trip hike. No matter the destination this is a great hike.
The trail is open to ATVs (excluding jeeps), bikes and motorcycles. Vehicle use is typically light. Keep an eye on the weather. The mesa is above the timberline and not the place to be during a thunderstorm.
Note: The trailhead is a short distance down County Road 50, a good, 2WD dirt road. The road can be slippery when wet.
Elevation Profile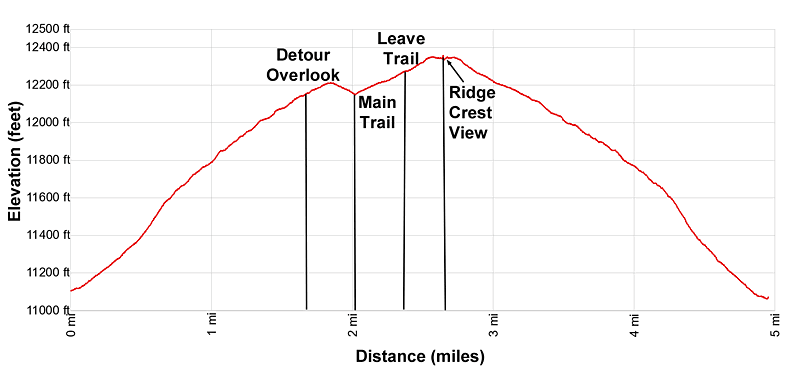 Buy the Book

This opinionated guide includes all the hikes in the Ouray, Telluride, Silverton and Lake City sections of the website plus info on local services and nearby attractions.
Trail Resources
Trail Detail/Full Description / Trail Photo Gallery / Trail Map
Basecamp(s) Information:
Lake City
Region Information:
Southwest Colorado
Other Hiking Regions in:
Colorado