This terrific hike wanders through beautiful American Basin, visits scenic Sloan Lake and then ascends to the summit of Handies Peak (14,048-ft.) with spectacular panoramic views of the San Juan Mountains.
See Trail Detail/Full Description
Distance: 2.3 miles (round trip) to Sloan Lake
5.4 miles (round trip) to Handies Peak

Elevation: 11,600-ft. at Trailhead
12,920-ft. at Sloan Lake
14,048-ft. at Handies Peak

Elevation Gain: 1,320-ft. to Sloan Lake
2,448-ft. to Handies Peak

Difficulty: strenuous
More Hikes in:
Lake City / Southwest Colorado
Why Hike Handies Peak
The stunning panoramic views from the top of Handies Peak (14,048-ft.) are among the best in the Lake City area. From the summit a large expanse of a the San Juan Mountains are visible including the Needle Mountains, the Grenadier Range, the La Garita Mountains and the peaks of the Uncompahgre and Mt. Sneffel Wilderness Areas.
The hike to the summit is filled with visual delights. The trail wanders through beautiful American Basin, one of the most scenic valleys in the San Juan Mountains. The entire basin, located above timberline, is covered in pretty meadows that are awash in a spectacular display of wildflowers during late July and early August. An impressive chain of craggy peaks towers above the head of the basin while the valley's eastern wall is dominated by the massive bulk of Handies Peak (14,048-ft.). Rising to the west are the steep flanks of 13,000-ft. peaks clad in tundra and scree.
At the head of the valley the route climbs to picturesque Sloan Lake (12,920-ft.), an alpine gem tucked in a rocky bowl beneath the valley's rugged headwall.
While the hike to Handies is steep, gaining almost 2,500-ft. in 2.7 miles, it follows a good trail the entire way and is not difficult. Indeed the peak is considered one of the easiest of the 14ers to climb in the Lake City Area. Well acclimated and reasonably fit hiker should have no problems reaching to top.
Be sure to select a day full of promise and get an early start so you can take your time enjoying the incredible views from the top and then descend before the onset of afternoon thunder storms, a frequent occurrence in the Rockies.
Elevation Profile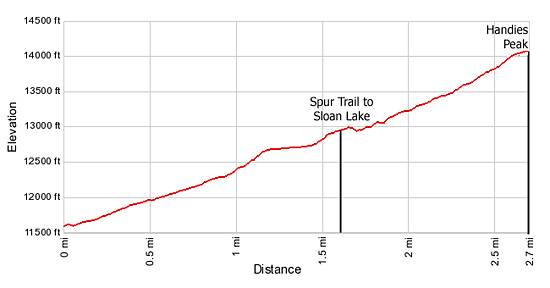 Buy the Book

This opinionated guide includes all the hikes in the Ouray, Telluride, Silverton and Lake City sections of the website plus info on local services and nearby attractions.
Trail Resources
Trail Detail/Full Description / Trail Photo Gallery / Trail Map
Basecamp(s) Information:
Lake City
Region Information:
Southwest Colorado
Other Hiking Regions in:
Colorado