Iron Mountain climbs a steep mining road with fine views of the surrounding mountains along with Wilson Peak and the Lizard Head Wilderness. Aspen groves, waterfalls and an old mine add interest to the hike.
See Trail Detail/Full Description
Distance: 8.0 miles (round trip) to Mtn. Flower Mine

Elevation: 9,090-ft. at Trailhead
10,857-ft. at Mtn. Flower Mine

Elevation Gain: 1,767-ft. to Mtn. Flower Mine

Difficulty: moderate-strenuous
More Hikes in:
Telluride / Southwest Colorado
Why Hike Iron Mountain
The scenic Iron Mountain trail climbs an old mining road along the north side of the East Fork of Deep Creek Valley, known locally as Snodgrass Canyon. Ruffner Mountain (13,003-ft.) and Mears Peak (13,496-ft.) tower above the east side of the valley while Iron Mountain (12,747-ft.) and Campbell Peak (13,213-ft.) define the southern wall. At the head of the valley is a rugged cirque of 13,000-ft. peaks. Fine views extend southwest to Wilson Peak and the Lizard Head Wilderness.
The Iron Mountain trail up Snodgrass Canyon is reach after a short stint along the Deep Creek and Whipple Mountain trails. From the foot of the canyon the stiff ascent to the Flower Mountain Mine travels through nice aspen groves and passes high above waterfalls along the creek. After two miles views open to the valley's high peaks. The mine is a good turnaround point for most hikers although it is possible to explore further up the valley.
The hike is a good option if the weather is threatening the high country or for hikers trying to acclimate. This lightly used trail sees few hikers so you are likely to have the valley to yourself.
Elevation Profile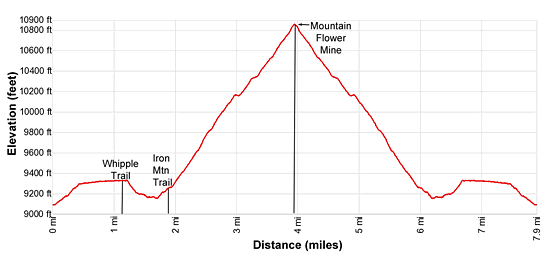 Buy the Book

This opinionated guide includes all the hikes in the Ouray, Telluride, Silverton and Lake City sections of the website plus info on local services and nearby attractions.
Trail Resources
Trail Detail/Full Description / Trail Photo Gallery / Trail Map
Basecamp(s) Information:
Telluride
Region Information:
Southwest Colorado
Other Hiking Regions in:
Colorado