This lightly traveled trail climbs steeply to Liberty Bell basin and a scenic ridge. Extend the hike by descending through Marshall Basin, scattered with mining ruins, on an off trail route to the Tomboy Mine and ghost town. Complete the loop by walking the Tomboy Road back to town.
See Trail Detail/Full Description
Distance: 7.2 miles (round trip) to Liberty Basin and Divide
6.0 miles (one way) to Marshall Basin/Tomboy Mine
10.6 miles (loop) to Telluride

Elevation: 8,880-ft. at Trailhead
12,575-ft. at Liberty Basin and Divide
11,400-ft. at Marshall Basin/Tomboy Mine
8,800-ft. at Telluride

Elevation Gain: 3,695-ft. to Liberty Basin and Divide
-1,175-ft. to Marshall Basin/Tomboy Mine
-2,520-ft. to Telluride

Difficulty: strenuous
More Hikes in:
Telluride / Southwest Colorado
Why Hike Liberty Bell/Marshall Basin
This varied hike, off the beaten track, offers walkers a good workout, great views and an opportunity to see ruins of the two top producing mining operations in the Upper San Miguel Mining District – the Smuggler-Union and Tomboy mines.
From downtown Telluride a good trail with limited views climbs steeply to Liberty Bell basin. For the first mile the trail travels along the Tomboy Road and the Jud Wiebe Trail. Beyond this point you will see few people until you reach the Tomboy Mine.
At the foot of the basin a steep trail ascends to the ridge separating the Liberty Bell and Marshall basins. As you climb to the ridge enjoy great views of Greenback Mountain (12,997-ft.), Mount Emma (13,581-ft.), the Saint Sophia ridge and, in the distance, the high peaks of the Lizard Head Wilderness. Atop the ridge views extend down the length of the Marshall Basin. Savage Basin and the road snaking to Imogene Pass are visible to the southeast.
Hikers comfortable with off-trail route finding can extend the hike by heading down the east side of the ridge into the Marshall Basin where the discovery of the Smuggler Vein in 1875 led to the formation of the Smuggler-Union mine in 1887-1889. Today remnants of the large mining operation are scatter about the valley.
The off-trail route soon connects with old mining roads that descend the basin and intersect the Tomboy Road just below the Tomboy Mine. A short walk up the Tomboy Road leads to the substantial ruins of the Tomboy Mine at the foot of Savage Basin. About 900 people lived and worked at the mine during the late 1800's to early 1900's. Wander a further half mile up the road to see a ghost town and more mining structures.
The loop trail returns to Telluride along the Tomboy Road. The ruins of interesting mining structures along with great views of the Savage Basin, Bridal Veil Basin and Falls, the Bear Creek Valley and the town of Telluride will help you to forget you are walking along a road back to town.
Be advised that the off-trail section of the loop descends very steep grass and talus slopes. When passing through the basin please view the mine ruins from a distance. Exploring tailings, mine shafts and unstable building is extremely dangerous. The ruins of the Tomboy Townsite are on private property, please do not trespass.
Elevation Profile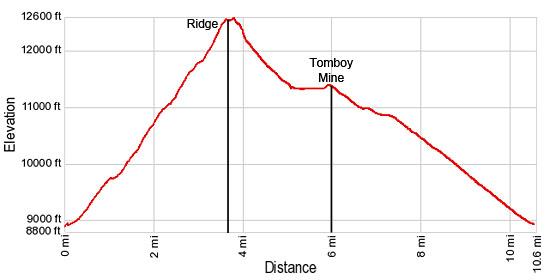 Buy the Book

This opinionated guide includes all the hikes in the Ouray, Telluride, Silverton and Lake City sections of the website plus info on local services and nearby attractions.
Trail Resources
Trail Detail/Full Description / Trail Photo Gallery / Trail Map
Basecamp(s) Information:
Telluride
Region Information:
Southwest Colorado
Other Hiking Regions in:
Colorado