Waterfalls, wildflowers and stunning views are the rewards for hikers making the stiff climb up Swamp Canyon to a high bench nestled below Ulysses S. Grant Peak. Extend the hike to Grant-Swamp Pass for breathtaking views of the Ice Lake area.
See Trail Detail/Full Description
Distance: 6.0 miles (round trip) to Scenic Bench
7.6 miles (round trip) to Grant-Swamp Pass

Elevation: 10,130-ft. at Trailhead
11,660-ft. at Scenic Bench
12,910-ft. at Grant-Swamp Pass

Elevation Gain: 1,530-ft. to Scenic Bench
2,780-ft. to Grant-Swamp Pass

Difficulty: strenuous
More Hikes in:
Telluride / Southwest Colorado
Why Hike Swamp Canyon
The town of Ophir Valley to the south of Telluride is off the radar of most hikers yet the area is quite scenic with soaring peaks rising above lovely meadows and crystal clear streams. Trailheads aren't well marked and the paths can be sketchy in places. Determined hikers willing to seek out these elusive trails will be well rewarded for their efforts.
The Swamp Canyon trail is a case in point. Finding the trailhead and keeping on track for the first mile can be challenging if you aren't paying attention. Beyond that point the trail climbs through forest and then scenic meadows high above the west side of Swamp Canyon. Along the way you will see few if any hikers.
As you emerge from the trees views open to V3 (13,528-ft.), Ulysses S. Grant Peak (13,767-ft.) and Peak 13309 towering above the head of the canyon. Soon South Lookout Peak (13,357-ft.) joins the scene. Below the trail along the valley floor, wet meadows and ponds that give the trail its name, come into view.
As the trail curves around the head of the valley is ascends to a bench clad in gorgeous meadows awash in wildflowers. Three waterfalls tumble down the rugged slopes of Ulysses S. Grant Peak. The area is truly breathtaking and will cause you to pause often to soak in the scene.
For many hikers the bench is the perfect destination. Experienced hikers comfortable on shifting talus and looking for a challenge can climb the very steep and rocky trail to the upper basin. The last 0.2 miles involves a scramble up extremely steep and unstable scree slopes to Grant-Swamp Pass. This section of the trail is not for the faint hearted gaining over 1,200-ft in 0.8 miles.
Elevation Profile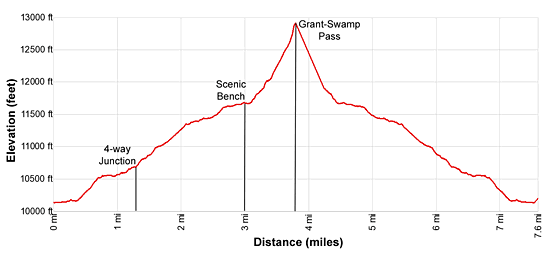 Buy the Book

This opinionated guide includes all the hikes in the Ouray, Telluride, Silverton and Lake City sections of the website plus info on local services and nearby attractions.
Trail Resources
Trail Detail/Full Description / Trail Photo Gallery / Trail Map
Basecamp(s) Information:
Telluride
Region Information:
Southwest Colorado
Other Hiking Regions in:
Colorado