A high traverse along the Grand Balcon Nord features nonstop, panoramic views of Mont Blanc, the Chamonix Aiguilles, the Aiguille Rouges, Le Brevent and the Chamonix Valley. The hike ends at Montenvers with stunning view of the high peaks towering above the Mer Glacier.
See Trail Detail/Full Description
Distance: 5.7 miles (one way) to Grand Balcon Nord

Elevation: 7,578-ft. at Trailhead
7,578-ft. at Grand Balcon Nord

Elevation Gain: 410-ft. to Grand Balcon Nord

Difficulty: moderate-strenuous
More Hikes in:
Chamonix / The French Alps
Why Hike Grand Balcon Nord - Plan de l'Aiguille to Montenvers
The Grand Balcon Nord, between Plan de l'Aiguille and Montenvers is one of the quintessential hikes in the Chamonix Valley, traveling above timberline and below the terminal moraines of the Chamonix Aiguilles (the Chamonix Needles). From the trail views stretch across the Chamonix valley to the Aiguille Rouges and Le Brevent. Mont Blanc and the Chamonix Needles, including the Aiguille du Midi, soar above the trail.
Near the end of the hike the trail climbs to Signal Forbes with breathtaking views of the high peaks towering above the Mer Glacier. From Signal the trail descends to Montenvers with more views of the Mer Glacier. Before returning to Chamonix play tourist and visit the Ice Caves drilled into the Mer Glacier.
This hiking description assumes you ride the Aguille du Midi Cable Car to the middle station (Plan de l'Aiguille ) to start the hike on the Grand Balcon Nord to Montenvers. After exploring Montenvers and the Mers Glacier, take the Montenvers Mountain Railway (Chemin de Fer du Montenver) back to Chamonix.
It is possible to walk the entire route. The steep Pre du Rocher trail from Chamonix to the start of the Grand Balcon Nord at Plan de l'Aiguille is 3.6 miles long and ascends over 3,800-ft. The trail descending from Montenvers to Chamonix is 3.2 miles in length and loses 2,765-ft. If you want to walk one-way, I would suggest walking back to Chamonix from Montenvers. More information on both trails is found below.
Note: This trail can be hiked in either direction. My preferred route is from the Plan de l'Aiguille lift station (the middle station on the Aiguille du Midi lift) to Montenvers. The trail is not as steep and the views are better than the reverse route.
Elevation Profile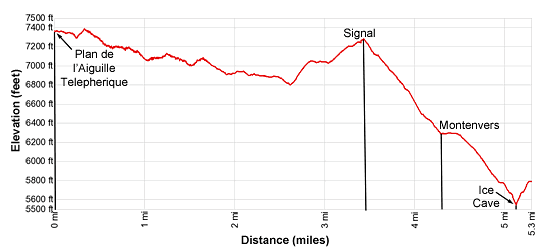 Trail Resources
Trail Detail/Full Description / Trail Photo Gallery / Trail Map
Basecamp(s) Information:
Chamonix
Region Information:
The French Alps
Other Hiking Regions in:
France