Becker and Albino Lakes
Distance: 5.0 - 12.2 miles (round trip)
Absaroka Beartooth Wilderness, Shoshone National Forest, near Cooke City in Beartooth Mountains
The Beartooths is blessed with great day hikes but none can complete with the scenic beauty of the hike to Becker and Albino Lakes, where a succession of beautiful lakes and photogenic meadows serve up stunning views of the Beartooth Plateau's high peaks and rugged landscapes.
See Trail Detail/Full Description
Distance: 5.0 miles (round trip) to the Meadows
8.0 miles (round trip) to Becker Lake
12.2 miles (round trip) to Albino Lake

Elevation: 9,530-ft. at Trailhead
9,660-ft. at the Meadows
9,770-ft. at Becker Lake
10,000-ft. at Albino Lake

Elevation Gain: 130-ft. to the Meadows
240-ft. to Becker Lake
470-ft. to Albino Lake

Difficulty: easy-moderate
More Hikes in:
Cooke City / Red Lodge / Beartooth Mountains
Why Hike Becker and Albino Lakes
Seldom are hikers rewarded with nonstop views with so little effort. From the beginning of the hike at the foot of Island Lake stunning vistas stretch north across the crystal blue lake to Lonesome Mountain, Castle Rock Mountain, Castle Mountain and Sky Pilot Mountain to the north. The massive 11,000-ft. ridge rimming the east side of the Beartooth Plateau fills the skyline to the east.
Enjoy more great views of the high peaks as the trail traverses the western shores of Island and Night Lakes. Beyond Night Lake the path travels through gorgeous wildflower-filled meadows, passing a succession pretty lakes and tarns with only occasional, gentle ascents. The open country continues to server up ever evolving views of the stunning peaks.
After 3.0 miles the trail turns onto a well-defined use/social path through a more intimate landscape of granite knolls and tree fringed meadows to Mutt and Jeff Lakes. A short stint along Jeff's west shore leads to the first real ascent of the hike, a short moderately-steep climb over a low knoll providing access to the east shore of lovely Becker Lake where views reopen to Lonesome Mountain and nearby granite ridges.
Beyond Lonesome Mountain the trail climbs 300-ft. on moderate and then moderately-steep grades over 0.7 miles to Albino Lake. Lonesome Mountain towers above the west shore of this alpine jewel while sheer, talus clad cliffs loom above the lake to the east.
Although the hike does employ use/social trails, most hikers will have little trouble staying on track. The hardest part of the hike is making sure you don't miss the turn off for the social trail.
This hike can be tailored to the time and energy level of your party. The open landscape invites exploration. The larger lakes along the trail support population of brook or cut throat trout.
Elevation Profile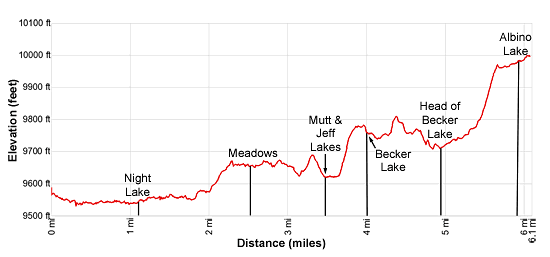 Trail Resources
Trail Detail/Full Description / Trail Photo Gallery / Trail Map
Basecamp(s) Information:
Cooke City / Red Lodge
Region Information:
Beartooth Mountains
Other Hiking Regions in:
Montana