Swiftcurrent Pass
Distance: 8.0 - 13.6 miles (round trip)
Glacier National Park, near Many Glacier in Glacier Natl Park, MT
This beautiful hike up the Swiftcurrent Valley passes a chain of lovely lakes with terrific views of the surrounding peaks and then climbs a steep trail up to a pass on the Continental Divide. The trail to the divide features panoramic views of Swiftcurrent Glacier and the valley.
See Trail Detail/Full Description
Distance: 8.0 miles (round trip) to Amphitheater
13.6 miles (round trip) to Swiftcurrent Pass

Elevation: 4,940-ft. at Trailhead
5,275-ft. at Amphitheater
7,185-ft. at Swiftcurrent Pass

Elevation Gain: 335-ft. to Amphitheater
2,245-ft. to Swiftcurrent Pass

Difficulty: strenuous
More Hikes in:
Many Glacier / St Mary / Glacier Natl Park, MT
Why Hike Swiftcurrent Pass
Waterfalls tumbling down the headwall of the dramatic amphitheater, three scenic lakes with stunning views of the Mt. Wilbur (9,321-ft.), Mt. Grinnell (8,851-ft.) and Swiftcurrent Mountain (8,436-ft.) and panoramic views from a trail climbing to the Continental Divide are the highlights of this great hike up the Swiftcurrent Valley to Swiftcurrent Pass (7,185-ft.).
The first four miles of the hike travel on easy grades up the Swiftcurrent Valley, through forest and meadows, visiting three lovely lakes along the way. The lakes enjoy fine views of Mt. Ginnell and Mt. Wilbur towering above the valley. Dominating the view at the end of the valley is a sheer headwall, flanked to the north by Swiftcurrent Mountain.
As you proceed up the valley, the multitude of waterfalls tumbling from the Swiftcurrent Glacier, sitting on a high ledge on the headwall, come into focus. The easy portion of the hike ends in a dramatic amphitheater directly beneath the headwall and its falls.
The trail now climbs steep switchbacks up the headwall to Swiftcurrent Pass on the Continental Divide. This section of the hike enjoys grand views of the waterfalls, Swiftcurrent Glacier and the Swiftcurrent Valley. Views from the broad pass are limited. But a short hike to the west of the pass leads to a great viewpoint with fine views of Heavens Peak (8,987-ft.) and Mount Vaught (8,850-ft.).
An optional extension of the hike from the pass climbs 1,250-ft. in 1.4 miles to a fire lookout atop Swiftcurrent Mountain. Backpackers with reservation for the Granite Park Chalet or the nearby Granite Park campground will continue down the west side of the pass for 0.6 miles to the junction with the Highline Trail, where trails connect to both destinations.
This is a long hike. Make sure you get an early start and keep an eye on the weather. The switchbacks to the pass are exposed and windy.
Elevation Profile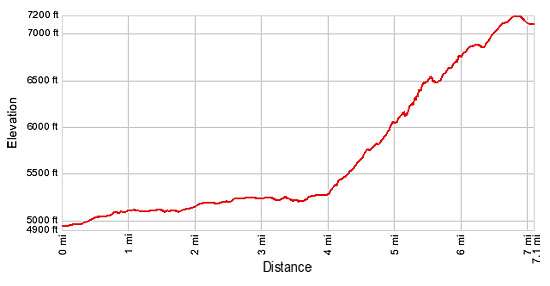 Trail Resources
Trail Detail/Full Description / Trail Photo Gallery / Trail Map
Basecamp(s) Information:
Many Glacier / St Mary
Region Information:
Glacier Natl Park, MT
Other Hiking Regions in:
Montana