This long, demanding hike visits three scenic valleys and crosses a panoramic pass with splendid views of the high peaks of the Silveretta Alps and Engadine Dolomite Mountains.
Read Full Description
Distance: 9.0 miles (round trip) to Tuoi Hut
11.4 miles (round trip) to Furcletta Pass
13.5 miles (one way) to Ardez (Complete Hike)

Elevation: 5,424-ft. at Trailhead
7,382-ft. at Tuoi Hut
8,973-ft. at Furcletta Pass
4,708-ft. at Ardez (Complete Hike)

Elevation Gain: 1,958-ft. to Tuoi Hut
3,549-ft. to Furcletta Pass
-4,265-ft. to Ardez (Complete Hike)

Difficulty: strenuous
More Hikes in:
Scuol / Eastern Switzerland
Why Hike Guarda to Ardez via Furcletta Pass
Serious hikers will love this long strenuous walk with knockout views of the high peaks of the Silveretta and Dolomite Engadine Alps. The hike starts with a beautiful walk up the Tuoi Valley, traveling through flower filled meadows to Chamanna Tuoi (Tuoi Hut). From the hut enjoy fine views of Piz Filana rising above the west side of the valley while Piz Buin, Piz Jeramias and the Dreilanderspitz straddling the Swiss-Austrian border, tower above the head of the valley.
From the hut the trail turns east and climbs steeply through meadows where views open to the Tuoi Glacier, cradled in a bowl beneath the Dreilanderspitz, Hinter Jamspitz and Piz Tuoi. The final climb to the pass ascends steeply through scree, boulders and snow fields to Furcletta Pass, with panoramic views of the jagged peaks rising along the west side of the Tuoi valley and beyond. To the east, lovely views extend down the Val D'Urezzas to Piz Minschun towering about the east side of the Val Tasna.
Beyond the pass the trail drops steeply down scree-covered slopes that give way to pretty meadows beneath a beautiful cirque towering above the north side of the Urezzas valley. The trail then descends along the north side of the valley to Val Tasna. At Val Tasna the path turns south and descends through wild-flower filled meadows and forests of larches and pine with wonderful views of the Dolomite Engadine range rising above the south side of the Inn (En) River valley.
This is a very long and strenuous hike, gaining over 3,500-ft on the climb to the pass and then dropping over 4,200-ft to Ardez. Get an early start and allocate 7-8 hours to complete the walk, depending on you pace and the number of stops along the way.
An out-and-back hike to the Tuoi Hut offer hikers a shorter and less strenuous day while still enjoying the scenic delights of the Tuoi Valley.
Elevation Profile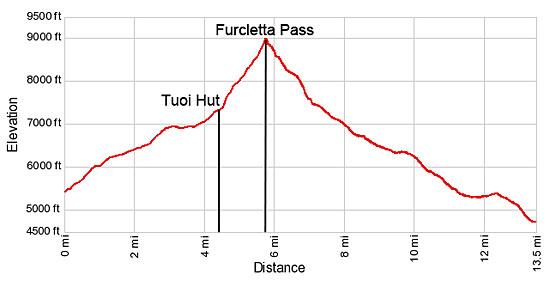 Trail Resources
Trail Photo Gallery / Trail Map
Basecamp(s) Information:
Scuol
Region Information:
Eastern Switzerland
Other Hiking Regions in:
Switzerland