Col de Torrent: Les Hauderes to Lac de Moiry
Distance: 7.3 miles (one way)
near Les Hauderes in The Valais
Hikers making the steep climb over the Col de Torrent from La Sage, Villaz to Lac de Moiry are rewarded with splendid views of the high peaks and glaciers towering above the Val d' Herens, Val d' Arolla and the Val de Moiry.
See Trail Detail/Full Description
Distance: 3.7 miles (one way) to Col Torrent
7.3 miles (one way) to Lac de Moiry from Les Hauderes via Col Torrent

Elevation: 5,716-ft. at Trailhead
9,576-ft. at Col Torrent
7,381-ft. at Lac de Moiry from Les Hauderes via Col Torrent

Elevation Gain: 3,860-ft. to Col Torrent
-2,190-ft. to Lac de Moiry from Les Hauderes via Col Torrent

Difficulty: strenuous
More Hikes in:
Les Hauderes / The Valais
Why Hike Col de Torrent: Les Hauderes to Lac de Moiry
One of the most scenic legs of the Walker's Haute Route is trail from Les Hauderes over the Col de Torrent to the Lac de Moiry. The hike, featuring stunning views of three glacial valleys, travels through pretty meadows, crosses a panoramic pass and then visits a shimmering lake with the Moiry Glacier as a backdrop.
The hike starts with a short bus ride from Les Hauderes to La Sage Villaz, which save considerable time and eliminates a 900-ft. climb. From Le Sage, the trail ascends steeply through lovely meadows along the east side of the Val d' Herens. Views soon open to Dent Blanche, Dent d' Herens and the massive glacier field at the head of the valley.
Towering above Les Hauderes is the Grande Dent De Veisivi, situated at the end of the long ridge separating the Val d' Herens from Val d' Arolla. To the southwest the Pigne d' Arolla dominates the view at the head of the Arolla Valley. To the north Diablerets rises above the Rhone Valley. As you climb to the Col (pass), views of the high peaks and glaciers expand and improve.
From the Col de Torrent the Grande Dent De Veisivi, Pigne d'Arolla, Les Aiguilles Rouges d'Arolla, Mont Blanc de Cheilon and the Grand Combin dominate the magnificent view to the southwest. Dent d'Herens rises above the glaciers cascading down the flanks of the Tete Blanche to the south. To the east, the Weisshorn looms above the ridges lining the eastern wall of the Moiry Valley.
Beyond the pass the trail drops steeply from the ridge and then passes lovely Lac des Autannes with wonderful views of Dent Blanche, the Grand Cornier and the Glacier de Moiry spilling down the flanks of the peaks encircling the head of the Val de Moiry. The rest of the hike enjoys fine views of the Moiry Valley as it drops to the dam at the head of the Lac de Moiry.
The hike can be extended by hiking down to Grimentz from the dam and/or walking up from Les Hauderes to La Sage, Villaz. Another option is to hike to the Cabane de Moiry (Moiry Hut). This strenuous route splits off from the farm of the Alpage de Torrent and then drops down to the head of the Lac de Moiry before climbing to the Cabane for a 9.5 mile hike that gains an additional 1,800-ft. The climb to the hut can be quite tiring at the end of a long day. See the Les Hauderes to the Cabane de Moiry via the Col de Torrent for more information.
Elevation Profile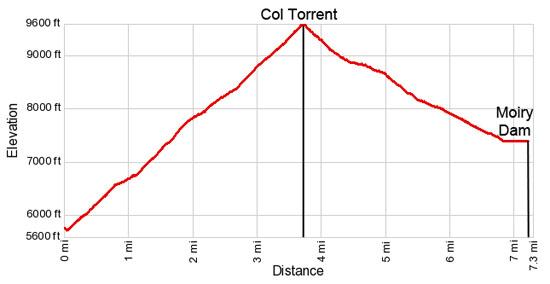 Support our Site
Buy the Book

This opinionated guide includes all the hikes in the Switzerland section of the website plus info on local services and nearby attractions.
Trail Resources
Trail Detail/Full Description / Trail Photo Gallery / Trail Map
Basecamp(s) Information:
Les Hauderes
Region Information:
The Valais
Other Hiking Regions in:
Switzerland