The Great Gallery in Horseshoe Canyon
Distance: 7.2 miles (round trip)
Horseshoe Canyon District, Canyonlands National Park, near Canyonlands in Southeast Utah
A nice hike to the Great Gallery, a phenomenal Barrier Canyon style rock art panel in a remote, detached unit of Canyonlands National Park.
See Trail Detail/Full Description
Distance: 7.2 miles to Horseshoe Canyon

Elevation: 5,350-ft. at Trailhead
4,690-ft. at Horseshoe Canyon

Elevation Gain: -660-ft. to Horseshoe Canyon

Difficulty: moderate
More Hikes in:
Canyonlands / Moab / Southeast Utah
Why Hike The Great Gallery in Horseshoe Canyon
This hike, located in the middle of nowhere, leads to a huge, intriguing rock art panel called the Great Gallery, considered to be one of the best preserved and finest collections of Barrier Canyon style rock art in the country. The panel features life-size figures with intricate designs painted in shades of red, white and brown, hovering in rows along the canyon's sandstone walls. The images are surrounded by depictions of animals, birds and unidentifiable objects.
The Great Gallery and three other rock art panels seen along the trail are located in Horseshoe Canyon, a detached unit of Canyonlands National Park. The area was added to the park in 1971 to protect this amazing collection of rock art. Sheer sandstone walls, groves of mature cottonwoods and wildflowers in the spring add interest to the hike along the canyon bottom.
The best time to hike to the Great Gallery is during the spring and fall when temperatures are milder. Hiking is not recommended during the summer months when temperatures often exceed 100 degrees F. Be sure to carry plenty of water. Do not depend upon finding water along the way.
Be forewarned that you will spend more time driving to the trailhead than hiking. Parties that enjoy car camping should consider spending a night at Goblin Valley State Park to shorten the trip.
Two-wheel-drive vehicles can typically travel the 30 miles of graded dirt/sand road from Utah Highway 24 to the trailhead. Rain or winds causing the sand to shift can quickly change the road conditions from two-wheel-drive to four-wheel-drive. Call (435) 259-2652 between 8am and 4:30pm to get an update on current road conditions.
Elevation Profile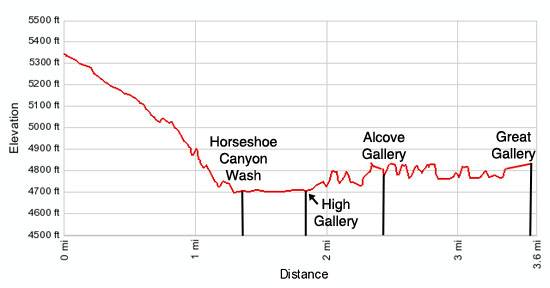 Trail Resources
Trail Detail/Full Description / Trail Photo Gallery / Trail Map
Basecamp(s) Information:
Canyonlands / Moab
Region Information:
Southeast Utah
Other Hiking Regions in:
Utah