Death Canyon
Distance: 7.8 - 12.0 miles (round trip)
Grand Teton National Park, near Grand Teton NP in The Tetons
This beautiful hike up a dramatic canyon leads to the pretty, wildflower-filled meadows of the upper canyon set beneath rugged peaks. Extend the hike by walking to a viewpoint with vistas extending to the cliffs of Death Canyon Shelf and Mount Bannon.
See Trail Detail/Full Description
Distance: 7.8 miles (round trip) to Patrol Cabin Meadows
12.0 miles (round trip) to From the Upper Meadows to the Shelf Viewpoint

Elevation: 6,780-ft. at Trailhead
7,840-ft. at Patrol Cabin Meadows
8,290-ft. at From the Upper Meadows to the Shelf Viewpoint

Elevation Gain: 1,560-ft. to Patrol Cabin Meadows
2,010-ft. to From the Upper Meadows to the Shelf Viewpoint

Difficulty: moderate-strenuous
More Hikes in:
Grand Teton NP / Jackson Hole / The Tetons
Why Hike Death Canyon
Don't let the trail name deter you. The hike up Death Canyon is very scenic, ascending a dramatic canyon sandwiched between the sheer cliffs of Prospectors Mountain and Albright Peak. A raging torrent cascades down the canyon floor.
The hike starts by ascending through forest to the Phelps Lake overlook, a nice turn around point for parties looking for a short hike, and then descends to a junction with the Valley Trail, which drops down to Phelps Lake. Beyond the junction the Death Canyon trail soon enters the mouth of Death Canyon and starts a stiff ascent up the narrow gorge. The rugged walls of Prospectors Mountain soar about the trail to the south while the steep slopes and crags of Albright Peak loom above the trail to the north. Death Canyon Creek spills down the canyon below the trail.
After 3.7 miles the grade abates as the trail reaches the upper canyon. Here the path ascends the canyon through trees and meadows on gentle grades. The creek meanders down the valley floor near the trail. After passing the historic Patrol Cabin, located at the junction with the Alaska Basin Trail, the path travels through flower filled meadows with great views of the high peaks rimming the canyon. Soon views open to the head of the valley where the cliffs rising above Death Canyon Shelf dominate the view. The meadows are a fine turn around point for parties looking for an 8-9 mile round trip hike.
After 4.6 miles the trail again enters and trees, ascending along a forested path with limited views for the next mile. After 5.6 miles the trees thin and soon give way to meadows with thickets of willows. A short off-trail ascent up the slopes to the north or the trail reveals fine views of Death Canyon Shelf and the summit of Mount Bannon. The viewpoint, located at 6.0 miles, is the final recommended destination for a day hike.
The trail continues up the canyon, climbing to Fox Creek Pass at the north end of Death Canyon Shelf at 9.7 miles. Death Canyon Shelf is one of the highlights of the popular Teton Crest Backpack. Backcountry permits are required to camp in Death Canyon and along the Teton Crest Trail. See the backcountry camping section of the Teton National Park site for more information.
Remember, after exiting the canyon on the return leg of the hike, the trail requires a 500-ft. uphill climb to the Phelps Lake Overlook before continuing to the trailhead. The climb is up open slopes and can be very hot on a summer afternoon.
Elevation Profile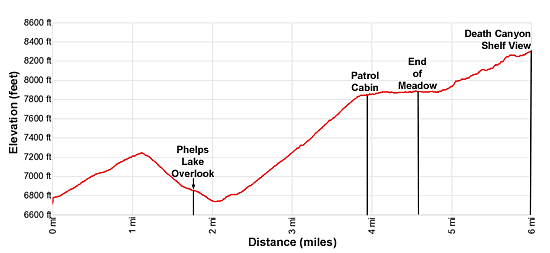 Trail Resources
Trail Detail/Full Description / Trail Photo Gallery / Trail Map
Basecamp(s) Information:
Grand Teton NP / Jackson Hole
Region Information:
The Tetons
Other Hiking Regions in:
Wyoming