Garnet Canyon
Distance: 8.2 - 9.4 miles (round trip)
Grand Teton National Park, near Grand Teton NP in The Tetons
Stunning views of Middle Teton, Nez Perce and Jackson Hole are the highlights of this scenic hike up Garnet Canyon. This trail, part of the popular climbing route to Grand, Middle and South Tetons, is not as heavily trafficked as nearby Amphitheater Lakes.
See Trail Detail/Full Description
Distance: 8.2 miles (round trip) to Garnet Canyon
9.4 miles (round trip) to The Meadows

Elevation: 6,720-ft. at Trailhead
8,990-ft. at Garnet Canyon
9,280-ft. at The Meadows

Elevation Gain: 2,270-ft. to Garnet Canyon
2,560-ft. to The Meadows

Difficulty: moderate-strenuous
More Hikes in:
Grand Teton NP / Jackson / The Tetons
Why Hike Garnet Canyon
This trail features dramatic views of Middle Teton, Nez Perce and rugged Garnet Canyon. The trail ascends the first three miles of the Amphitheater Lake trail before following the Garnet Canyon trail into its rugged namesake canyon. Here the trail ascend through rocky meadows and talus slopes along the south facing slopes of Disappointment Peak to the foot of a stunning valley, whose entrance is blocked by a massive boulder field.
Most hikers stop at the boulder field, well satisfied with the breathtaking views of the peaks. Parties comfortable with strenuous, off-trail scrambling must plot their own course through the labyrinth of boulders to reach "The Meadows", a camping area for climbers, surrounded by a massive granite cirque anchored by Middle Teton.
From the meadows enjoy breathtaking views of Nez Perece, Couldveil Dome, South Teton (12,514-ft) and Middle Teton. The rugged crags of Disappointment Peak tower above the valley to the north. A lovely creek flow through the meadows while Spaulding Falls tumbles down talus slopes to the north.
The Lupine Trailhead, the start of the Amphitheater Lake trail, is very busy with day hikers and climbers. I strongly advise getting an early start to climb the exposed sections of the Amphitheater Lake portion of this trail in the cool of the morning and also get a parking spot at the very busy Lupine Meadows trailhead.
It is not unusual to see bears grazing amid the high brushy meadows along the trail. Plan accordingly – make noise and travel in a group.
Elevation Profile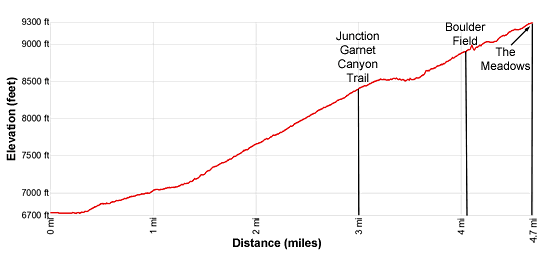 Trail Resources
Trail Detail/Full Description / Trail Photo Gallery / Trail Map
Basecamp(s) Information:
Grand Teton NP / Jackson
Region Information:
The Tetons
Other Hiking Regions in:
Wyoming