Hermitage Point
Distance: 9.9 miles (loop)
Grand Teton National Park, near Grand Teton NP in The Tetons
Two scenic ponds, views of the Tetons towering above Jackson Lake, a chance to see wildlife and some solitude make the Hermitage Point Loop a good option for hikers looking for an easy, full day hike or a good hike when weather precludes hiking in the high country.
See Trail Detail/Full Description
Distance: 9.9 miles (loop) to Loop

Elevation: 6,790-ft. at Trailhead
6,892-ft. at Loop

Elevation Gain: 150-ft. to Loop

Difficulty: easy
More Hikes in:
Grand Teton NP / Jackson Hole / The Tetons
Why Hike Hermitage Point
This long, easy trail travels through meadows and forest passing pretty Swan and Heron Ponds where hikers may see waterfowl and occasionally other wildlife. Beautiful views from the Colter Bay section of the trail and Heron Pond stretch west to Mount Moran and the nearby high peaks towering above the west side of Jackson Lake.
After visiting the ponds the trail travels for 2.0 miles through forest and then emerges onto sagebrush flats near the foot of the Hermitage Point peninsula. Here stunning views open to the Teton Range from Teewinot Mountain and Grand Teton in the southwest to Mount Moran and Bivouac Peak to the west.
Hermitage Point, at the foot of the peninsula, features breathtaking views of the southern section of Jackson Lake and the Teton Range from Grand Teton to Ranger Peak. Views extend up Paintbrush Canyon to the high peaks towering along the divide. The point is a lovely spot to relax and enjoy a picnic.
The return leg is along the east side of the peninsula, where large meadows offer views of Signal Mountain. At the head of the peninsula hikers have a choice of routes, with the slightly longer trail passing several oxbows along Third Creek and a swampy area choked with willows. I have seen Moose grazing along this section of the hike.
The trail is a good option if you are looking for an easy, full day hike with some solitude. The initial section of the hike around the ponds is popular with families. The number of people along the trail falls away once you start the Hermitage Point loop.
I also recommend this trail when weather precludes travel in the high country or trails along the base of the range. The trail is also a good shoulder season hike when snow blankets the higher elevation trails.
Elevation Profile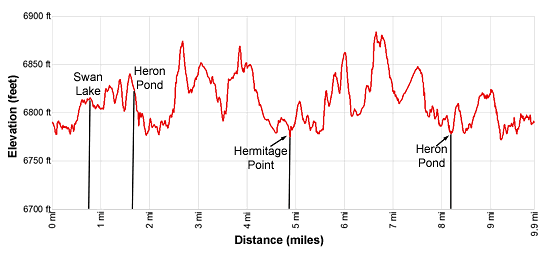 Trail Resources
Trail Detail/Full Description / Trail Photo Gallery / Trail Map
Basecamp(s) Information:
Grand Teton NP / Jackson Hole
Region Information:
The Tetons
Other Hiking Regions in:
Wyoming