String, Leigh, Bearpaw and Trapper Lakes
Distance: 3.2 - 10.0 miles (round trip)
Grand Teton National Forest, near Grand Teton NP in The Tetons
Travel along a series of photogenic lakes with gorgeous views of the Teton Range stretching from Teewinot Mountain to Mount Moran. This is a great area for families or anyone looking for an easy, relaxed outing with great views.
See Trail Detail/Full Description
Distance: 10.0 miles (round trip) to String and Leigh Lakes

Elevation: 6,870-ft. at Trailhead
6,930-ft. at String and Leigh Lakes

Elevation Gain: 280-ft. to String and Leigh Lakes

Difficulty: easy
More Hikes in:
Grand Teton NP / Jackson / The Tetons
Why Hike String, Leigh, Bearpaw and Trapper Lakes
This easy, relatively level hike visits scenic String Lake, Leigh Lake, Bearpaw Lake and Trapper Lake and features fine views of the Teton Range from The Cathedral Group to Mount Moran. A variety of destinations permit parties to tailor their day to fit the time, energy and skill level of their group.
The shortest and easiest option is a 2.8 miles round-trip (RT) hike along the eastern shore of String Lake to the foot of Leigh Lake and back. Alternatively, walk to Leigh Lake and then backtrack to cross the bridge over the Leigh Lake outlet stream. Across the bridge follow the String Lake Trail that loops around the lake, returning to the parking area in 3.6 miles.
The longest option travels along the eastern shores of String and Leigh Lake. Beyond Leigh Lake the hike visits Bearpaw and Trapper Lakes. This out-an-back option is 10 miles RT. A shorter option is to walk along Leigh Lake to a nice viewpoint at 3.5 miles and then retrace your steps for a 7.0 mile RT hike. There are a number of shorter variations that take you out to different viewpoints along Leigh Lake. All options offer fine views and good spots to stop, relax and enjoy a picnic lunch.
Easy access to these scenic lakes makes this a very popular area, so don't expect solitude unless you are willing to walk to Bearpaw and Trapper Lake, the farthest lakes along the trail. The parking areas around the lakes are too small to satisfy demand. As with everything at Grand Teton National Park, get an early start so you can get a parking spot and not be disappointed.
Elevation Profile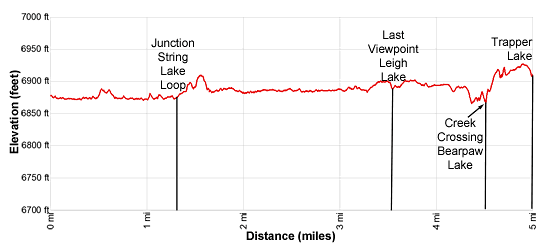 Trail Resources
Trail Detail/Full Description / Trail Photo Gallery / Trail Map
Basecamp(s) Information:
Grand Teton NP / Jackson
Region Information:
The Tetons
Other Hiking Regions in:
Wyoming