Taggart and Bradley Lakes Loop
Distance: 5.3 - 6.7 miles (loop)
Grand Teton National Park, near Grand Teton NP in The Tetons
Impressive views of Tetons are the hallmark of this scenic loop trail visiting photogenic Taggart and Bradley Lake, set in beautiful basin beneath the majestic Teton Range.
See Trail Detail/Full Description
Distance: 5.3 miles (loop) to Taggart/Bradley Loop
6.7 miles (loop) to Taggart/Bradley/Beaver Loop

Elevation: 6,630-ft. at Trailhead
7,195-ft. at Taggart/Bradley Loop
7,195-ft. at Taggart/Bradley/Beaver Loop

Elevation Gain: 990-ft. to Taggart/Bradley Loop
1,240-ft. to Taggart/Bradley/Beaver Loop

Difficulty: easy-moderate
More Hikes in:
Grand Teton NP / Jackson Hole / The Tetons
Why Hike Taggart and Bradley Lakes Loop
This hike features great scenery and is the perfect introduction to Grand Teton National Park. The walk to the lakes enjoys superb views of Teton Range. Upon reaching the lake shores the range forms the perfect backdrop for these beautiful lakes. Photographers will want to get an early start to catch stunning images of the peaks mirrored in the lakes' still waters.
The trail climbs up and over ancient moraines, offering evidence of the park's glacial period and a lesson on the formation of the park's lakes. Taggart (6,902-ft.) and Bradley Lakes (7,022-ft.) were formed by glacier flowing out of Avalanche and Garnet Canyons (respectively). The glaciers gouged out basins as they advanced. When the climate warmed the glacier started to melt and recede. The moraines (ridges of rock and dirt) left by the retreating glaciers acted as dams, holding the glacial meltwater in the basins. Forests of lodgepole pine, Engelmann spruce and alpine furs then grew upon the moraines.
The effects of fire and regeneration are also on display. The lakes providing an interesting contrast in that the moraines east of Taggart were burnt in 1985, opening up wonderful views of the Tetons, while the area around Bradley was untouched by the fire. The loop trail now ascends the ancient moraines and travels through the burn area. Regeneration is on display, with new trees growing fallen burnt timber.
Elevation Profile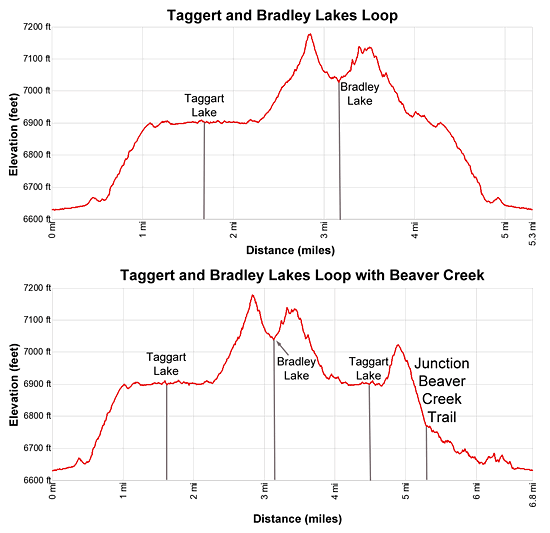 Trail Resources
Trail Detail/Full Description / Trail Photo Gallery / Trail Map
Basecamp(s) Information:
Grand Teton NP / Jackson Hole
Region Information:
The Tetons
Other Hiking Regions in:
Wyoming