Teton Crest
Distance: 35.6 miles (one way)
Grand Teton National Park, near Grand Teton NP in The Tetons
Breathtaking views of towering granite peaks, gorgeous glacier-carved valleys, lovely lakes and meadows awash in wildflowers greet hikers on this popular backpack through the heart of the Teton Range.
See Trail Detail/Full Description
Distance: 6.5 miles (one way) to Marion Lake
7.6 miles (one way) to Alaska Basin
11.0 miles (one way) to Lake Solitude

Elevation: 6,800-ft. at Trailhead
10,400-ft. at Marion Lake
9,726-ft. at Alaska Basin
10,400-ft. at Lake Solitude

Elevation Gain: 1,400-ft. to Marion Lake
1,455-ft. to Alaska Basin
2,563-ft. to Lake Solitude

Difficulty: moderate-strenuous
More Hikes in:
Grand Teton NP / Jackson / The Tetons
Why Hike Teton Crest
The Teton Crest ranks high on lists of the country's best backpacking trails. The trip is jam-packed with stunning views of the Teton Range, glacier-carved valleys, glistening lakes and wildflower-fill meadows. The backpack travels through the heart of the Teton Range, climbing over high passes and traversing scenic valleys and high benches along the divide. Almost everyday features iconic views of the range's majestic granite peaks.
There are several options for starting the trail. This description uses the Jackson Hole Aerial Tram to whisk hikers to the summit of Rendezvous Mountain where trails descend to meet the Middle Fork of Granite Canyon trail leading to the Teton Crest. Other options are to forgo the shuttle and walk up Granite Canyon to Marion Lake, a 10.4 miles hike gaining over 2,800-ft., or to start the hike from the Ski Lake trailhead, located along WY-22 east of Teton Pass, and follow the trail to Phillips Pass and the beginning of the Teton Crest Trail. This option reaches Marion Lake in 9.9 miles with a 1,700-ft. elevation gain.
The backpack typically ends at either the upper or lower parking lot at String Lake, although some backpackers walk all the way to the Jenny Lake parking area. All options require a car shuttle.
Advanced backcountry camping reservations are available via recreation.gov. The park currents reserves one-third of the sites in each camping zone. The remainder of the camping zones are allocated on a first-come, first serve permit in person one day before the start of the backpacking trip. There is very high demand for the walk-in permits during the height of the summer. Check the Teton National Park website to determine the window for making advanced reservation system.
Note: All persons camping in the park's backcountry are required to use Interagency Grizzly Bear Committee (IGBC) approved canisters for food storage. Canisters may be checked out for free when you pick up your permit. Visit the IGBC website for a list of approved bear containers.
Elevation Profile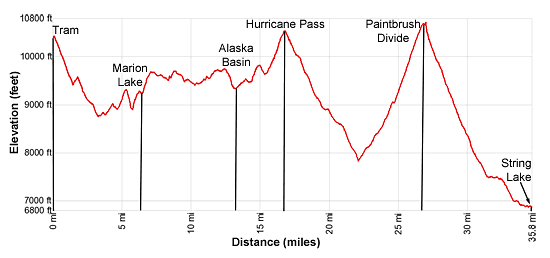 Trail Resources
Trail Detail/Full Description / Trail Photo Gallery / Trail Map
Basecamp(s) Information:
Grand Teton NP / Jackson
Region Information:
The Tetons
Other Hiking Regions in:
Wyoming