Beartooth Lakes Loop
Distance: 7.8 miles (round trip)
Shoshone National Forest, near Cooke City in Beartooth Mountains
This beautiful trail visits six scenic lakes, travels through meadows awash in wildflowers and features fine views of Beartooth Butte, Lonesome Mountain and the high ridges towering above the east side of the Beartooth Plateau.
See Trail Detail/Full Description
Distance: 7.8 miles (loop) to Lakes Loop

Elevation: 8,910-ft. at Trailhead
9,920-ft. at Lakes Loop

Elevation Gain: 1,010-ft. to Lakes Loop

Difficulty: moderate
More Hikes in:
Cooke City / Red Lodge / Beartooth Mountains
Why Hike Beartooth Lakes Loop
This hike offers a nice sampling of the Beartooth Mountains visual delights. A climb along the wildflower-filled meadows beneath Beartooth Butte leads to a lovely chain of lakes nestled along a series of benches rimmed by rugged granite knolls.
Beauty Lake, the last lake in the chain, is aptly named. From the lakeshore views stretch north to the high peaks and ridges rimming the east side of the Beartooth Plateau and west to Beartooth Butte. The lake is a great place to relax and enjoy a picnic lunch while taking in the views. Fishermen will want to try their luck at catching some of the lake's brook trout.
Beyond Beauty Lake the trail descends through forest to the trailhead, passing to the east of Crane Lake along the way. Take time to enjoy Beartooth Lake by stopping at the picnic area and strolling along the lakeshore before you leave the area.
Please note that creek crossings along the loop can problematic early in the season. With the exception of the crossing of Beartooth Lake's outlet stream, after the snow has melted you can typically keep your feet reasonable dry by rock-hopping across the streams. Early in the season there are also several marshy areas. These sections of the trail slowly dry as the summer progresses.
Needless to say mosquitos are a problem early in the summer. Don't forget the bug juice!
Elevation Profile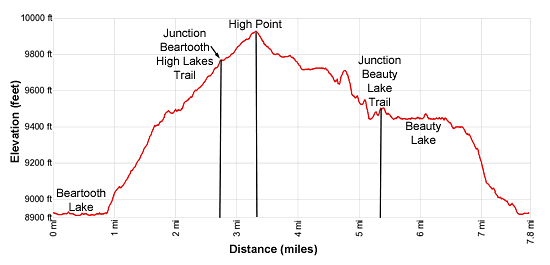 Trail Resources
Trail Detail/Full Description / Trail Photo Gallery / Trail Map
Basecamp(s) Information:
Cooke City / Red Lodge
Region Information:
Beartooth Mountains
Other Hiking Regions in:
Montana