A short hike that is long on terrific views of the Bernina massif, Val Roseg, the Engadine Lake district and the Albula Alps.
Read Full Description
Distance: 4.0 miles (one way)

Elevation: 8,050-ft. at Trailhead
Maximum elevation: 8,970-ft.

Elevation Gain: 1,270-ft.

Difficulty: moderate
More Hikes in:
St Moritz / Eastern Switzerland
Why Hike Muottas Muragl to Alp Languard
Almost every step of this short hike is packed with stunning views. The trail starts at the top of the Muottas Muragl funicular with splendid views of the Albula Alps, dominated by Piz Julier and Piz Ot, towering above the lakes nestled along the floor of the Upper Engadine Valley. The high peaks of the Bernina Alps above Val Roseg and Morteratsch valley fill the skyline to the south while Piz Vadret and Piz Muragl rise above the Muragl valley to the east.
From the funicular station a scenic trail drops down to the floor of the Muragl Valley where it crosses the Ova da Muragl (stream) and then climbs steeply up to Bes-cha, an overlook at the end of the ridge extending from Piz Muragl. The overlook enjoys great views of the Bernina massif and the Albula range.
A short climbs leads to the high point of the hike at the Segantini hut with glorious views of the Bernina massif, Val Roseg, the Engadine Lake district and the Albula Alps. From the hut the trail descends briefly and then follows a panoramic traverse along the flanks of Las Sours before dropping steeply down to the chairlift at Alp Languard. The last two miles of the hike are along the themed Climate Trail which features eighteen information panels explaining how climate change is impacting the alpine environment.
This trail should not present any problems for most hikers. Please be aware that short sections of the trail are narrow and exposed. Fix chains bolted to the rock offer a level of security along these segments. Also the trail dropping down to Alp Languard is quite steep in places.
Elevation Profile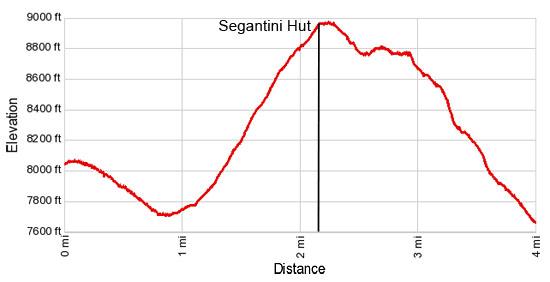 Trail Resources
Trail Photo Gallery / Trail Map
Basecamp(s) Information:
St Moritz
Region Information:
Eastern Switzerland
Other Hiking Regions in:
Switzerland