Vast meadows, pretty lakes, stunning scenery and a choice of destinations are the highlights of this popular hike to Helen Lake. Beyond the lake the trail climbs a panoramic ridge, visit Katherine Lake and Dolomite Pass and/or climbs Cirque Peak for breath-taking views.
See Trail Detail/Full Description
Distance: 7.2 miles (round trip) to Helen Lake
8.6 miles (round trip) to Ridge Above Helen Lake
11.0 miles (round trip) to Dolomite Pass

Elevation: 6,430-ft. at Trailhead
7,890-ft. at Helen Lake
8,200-ft. at Ridge Above Helen Lake
7,865-ft. at Dolomite Pass

Elevation Gain: 1,460-ft. to Helen Lake
1,770-ft. to Ridge Above Helen Lake
-335-ft. to Dolomite Pass

Difficulty: moderate-strenuous
More Hikes in:
Banff / Lake Louise / The Canadian Rockies
Why Hike Helen Lake and Dolomite Pass
A steady climb leads to pretty Helen Lake set amid an alpine wonderland beneath Cirque Peak (9,819-ft.). Continue the hike by ascending the ridge above the lake where panoramic views extend west to the high peaks towering above the Bow Valley and west to the Banff Backcountry.
Beyond the ridge the Dolomite Pass trail descends to Lake Katherine, nestled beneath the rugged crags and pinnacles of Dolomite Peak (9,127-ft.). From the lakeshore a boot-beaten path ascends the tundra clad plateau between Cirque and Dolomite Peaks to Dolomite Pass near a small tarn. Here views extend northeast toward Watermelon Peak (10,154-ft.) and a host of unnamed summits towering above the Dolomite Creek Valley. The trail continues over the pass and down the Dolomite Valley, a trip best left to expert backpackers comfortable with challenging conditions and fording deep and swift rivers.
For the adventurous hiker, a steep route climbs from the ridge above Helen Lake to the summit of Cirque Peak (9,819-ft.). The route involves minor scrambling and toiling up steep scree slopes. Hikers making the stiff climb to the top are rewarded with stunning, 360-degree views of the high peaks lining the Icefield Parkway and beyond.
Elevation Profile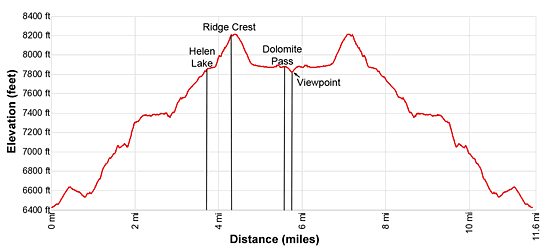 Trail Resources
Trail Detail/Full Description / Trail Photo Gallery / Trail Map
Basecamp(s) Information:
Banff / Lake Louise
Region Information:
The Canadian Rockies
Other Hiking Regions in:
Alberta / British Columbia