North Fork Lake Creek
Distance: 8.1 miles (round trip)
Mt. Massive Wilderness, San Isabel National Forest, near Buena Vista in Central Colorado
This trail travels up a beautiful, secluded valley to wind swept tarn and then a saddle on the Continental Divide overlooking the Fryingpan Lakes. The quiet valley offers good opportunities to spot wildlife and features fine views of the surrounding high peaks.
See Trail Detail/Full Description
Distance: 8.1 miles (round trip) to the Saddle

Elevation: 10,790-ft. at Trailhead
12,460-ft. at the Saddle

Elevation Gain: 1,670-ft. to the Saddle

Difficulty: moderate-strenuous
More Hikes in:
Buena Vista / Aspen / Central Colorado
Why Hike North Fork Lake Creek
Get off the beaten track with this scenic hike up the North Fork Lake Creek valley in the Mt. Massive Wilderness. The trail, located to the east of Independence Pass, ascends the meadows along the valley floor enjoying fine views of Mt. Champion (13,464-ft.) and Lackawanna Peak (13,823-ft.) rising to the east and several unnamed 12,000-ft. peaks towering above the head of the valley to the north.
At the head of the valley vistas open to two huge basins, to the east and the west, ringed by 13,000-ft peaks. Here the trail turns east and ascends through alpine meadows to the basin beneath Deer Mountain (13,761-ft.) and then climbs steep switchbacks to a bench cradling a small, unnamed lake. Beyond the lake a short, easy climb leads to a saddle on the Continental Divide with panoramic views down the Fryingpan Valley to the Fryingpan Lakes. In the distance are the summits in the Hunter Fryingpan and Holy Cross Wilderness areas.
On the return journey the descent down the Deer Mountain basin to the trailhead features stunning views of the basin to the west and Twining Peak (13,711-ft.) rising along the west side of the valley. To the south Star Mountain (12,941-ft.) and nearby summits in the Collegiate Peaks Wilderness fill the skyline.
The lightly traveled valley provides good opportunities to spot wildlife and offers a degree of solitude not found on many of the hiking trails in the area. Fishermen will want to take a detour up the very steep use trail to Blue Lake nestled beneath Twining Peak.
Elevation Profile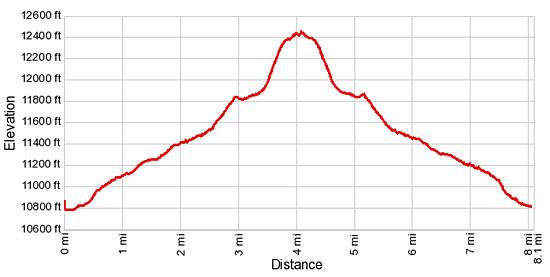 Buy the Book

This opinionated guide includes all the hikes in the Aspen, Buena Vista, Crested Butte, Marble and Leadville sections of the website plus info on local services and nearby attractions.
Trail Resources
Trail Detail/Full Description / Trail Photo Gallery / Trail Map
Basecamp(s) Information:
Buena Vista / Aspen
Region Information:
Central Colorado
Other Hiking Regions in:
Colorado