Stroll beneath soaring sandstone formations topped with sculpted pinnacles, towers and spires on this short, highly scenic hike through a dramatic canyon in Arches National Park.
See Trail Detail/Full Description
Distance: 1.8 miles (round trip) to Park Avenue

Elevation: 4,550-ft. at Trailhead
4,550-ft. at Park Avenue

Elevation Gain: -316-ft. to Park Avenue

Difficulty: easy-moderate
More Hikes in:
Arches / Moab / Southeast Utah
Why Hike Park Avenue
The Park Avenue Overlook is the first stop for many people driving along the Arches National Park Scenic Drive. The short hike, starting from the overlook, is a great introduction to the park's massive sandstone formations, sculpted by wind and water, into fins, spires and balanced rocks.
The moderately-easy hike descends to and traverses a stunning canyon, lined with towering sandstone monoliths. Walking beneath the soaring sandstone walls is likened to strolling along New York's famous avenues, lined with skyscrapers. In this case, the architect is Mother Nature and her fantastical, monumental designs are sure to captivate and enchant. Famous formations in the area include Queen Nefertiti, Argon Tower, the Three Gossips and the Organ. Near the end of the hike views extend to Tower of Babel and Sheep Rock.
Wander as far as you like along the trail and then return to the trailhead. Alternatively, arrange for someone to pick you up at the far end of the trail at the Courthouse Towers viewpoint.
Please be advised that trailhead parking is very limited. The good news is there is a lot of turnover at the parking lot. Most people simply walk to the viewpoint, take a few photos and then continue on their way. Take the time for a short hike along Park Avenue, you won't be disappointed!
Elevation Profile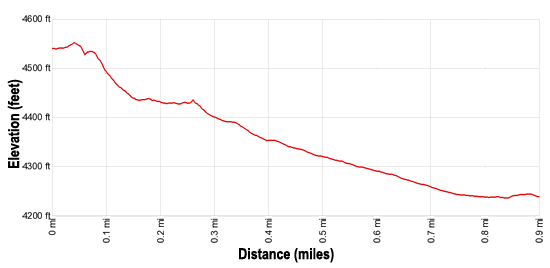 Trail Resources
Trail Detail/Full Description / Trail Photo Gallery / Trail Map
Basecamp(s) Information:
Arches / Moab
Region Information:
Southeast Utah
Other Hiking Regions in:
Utah