Sand Dune Arch
Distance: 0.3 miles
Arches National Park, near Arches in Southeast Utah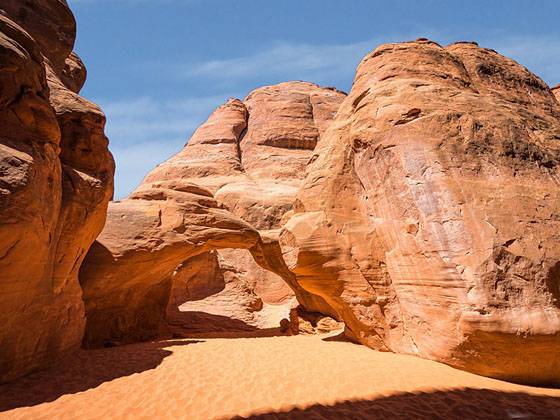 Sand Dune Arch
A short hike to a secluded arch nestled among sandstone fins, south of the Devil's Garden section of Arches National Park.
Distance: 0.3 miles (RT)
Elevation: 5,180-ft. at Trailhead
Maximum elevation - 5,220-ft.
Elevation Gain: 40-ft.
Difficulty: easy
Region: Southeast Utah
Trail Description - Sand Dune Arch
From the Sand Dune Arch trailhead, follow the broad path for a short distance toward a section of sandstone fins. Soon you reach a signed junction. Straight ahead is Broken Arch. We turn right on a short spur trail toward Sand Dune Arch. The sandy path travels through a passage between two rows of sandstone fins and soon comes to Sand Dune Arch, on the right, at 0.15 miles. The span is flanked by fins. Beneath the arch is its namesake sand dune.
There is typically some shade around the arch, offering a respite from the sun on a hot day. Retrace your steps to the trailhead for a 0.3 miles round-trip hike .
Extend the hike by continuing along the main trail to Broken Arch. See the Sand Dune, Broken and Tapestry Arches Loop description for more information.
Driving Directions
From Moab, UT: From Center Street and Main Street/US 191 in Moab, head north on Main Street/US 191 N for 4.6 miles and then turn right on the Arches Entrance Road. Pass thru the kiosk where you pay your entrance fee. A short distance beyond the kiosk is the right turn for the Visitor Center (0.7 miles from the entrance). The Visitor Center is a good place to see exhibits on the park, obtain information and check on current conditions.
From the Visitor Center continue on the Arches Entrance Road, which is now called the Arches Scenic Drive, for 16 miles to the Sand Dune Arch trailhead, located on the right (east) side of the road.
Trail Resources