Collins Canyon to Bannister House Ruin
Distance: 9.0 miles (round trip)
Grand Gulch Primitive Area, BLM, Monticello, Utah office, near Grand Gulch in Southeast Utah
This easy trail descends to scenic Grand Gulch and then travels up canyon to visit impressive Bannister House Ruins. Along the way the trail passes an old cowboy camp, an abandoned rincon, a small granary and small pictograph panels.
See Trail Detail/Full Description
Distance: 9.0 miles (round trip) to Bannister House

Elevation: 5,100-ft. at Trailhead
4,800-ft. at Bannister House

Elevation Gain: -300-ft. to Bannister House

Difficulty: easy-moderate
More Hikes in:
Grand Gulch / Bears Ears NM / Southeast Utah
Why Hike Collins Canyon to Bannister House Ruin
Collins Canyon offers the easiest access to Grand Gulch. A boot beaten trail weaves its way down the canyon on easy to moderate grades, passing an old cowboy camp littered with artifacts along the way. As you descend, the hike becomes more scenic as the canyon walls grow in stature. Upon reaching the confluence of Collins and Grand Gulch, the route heads up Grand Gulch, passing an abandoned meander, a small granary and pictograph panels along the way.
Photogenic Bannister House Ruin is located on the canyon's northwest wall, 2.6 miles from the confluence. This impressive ruin is situated on two levels. An interesting double wall kiva with an intact roof is the highlight of the lower level. The upper section of the ruin is composed of jacal (waddle and daub) structures enclosed by an extensive masonry wall with the ruin's trademark banister along the ledge.
Backpackers interested in spending a night in the canyon will find a few nice campsites around the confluence of Collins Canyon with Grand Gulch and near Bannister Ruin. In the spring and after it rains you may find water around the confluence and along a few sections of Collins Canyon wash. Seasonal Bannister Spring is located a short distance down canyon from Bannister House Ruins. Check on the current water conditions at the Kane Gulch Ranger Station before starting your trip.
Please note: Permits are required for hiking and backpacking in the canyons of Cedar Mesa, including Grand Gulch. Day use permits may be obtained at the Kane Gulch Ranger Station or at trailheads. During the spring and fall, overnight backpacking permits are only available at the Kane Gulch Ranger Station, and must be obtained on the morning of the trip. They may be reserved up to 90 days in advance by calling 435-587-1510. During other seasons, these permits may be obtained from the Monticello Field Office. See the BLM Grand Gulch website for more information.
Elevation Profile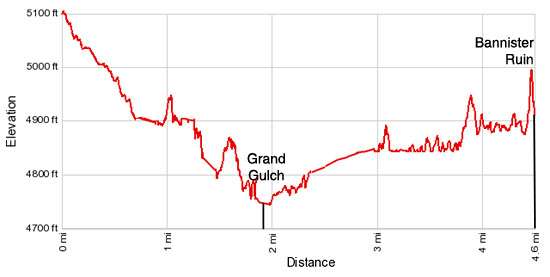 Trail Resources
Trail Detail/Full Description / Trail Photo Gallery / Trail Map
Basecamp(s) Information:
Grand Gulch / Bears Ears NM
Region Information:
Southeast Utah
Other Hiking Regions in:
Utah