Government to Big Man Panel
Distance: 9.4 miles (round trip)
Grand Gulch Primitive Area, BLM, Monticello, Utah office, near Grand Gulch in Southeast Utah
Two life-sized red and white pictographs, depicting a man and a woman, are the central focus of this fascinating rock art panel, located on a ledge high above Grand Gulch.
See Trail Detail/Full Description
Distance: 9.4 miles (round trip) to Big Man Panel

Elevation: 5,650-ft. at Trailhead
5,050-ft. at Big Man Panel

Elevation Gain: -600-ft. to Big Man Panel

Difficulty: moderate
More Hikes in:
Grand Gulch / Blanding / Southeast Utah
Why Hike Government to Big Man Panel
This great hike leads to an amazing pictograph panel featuring two huge anthropomorphs (human-like figures), most likely a man and a woman, as well as other images. The trail travels along an old road on Cedar Mesa to the rim of Grand Gulch and then drops down to the canyon floor at Polly's Island. In the canyon the trail heads north for 1.7 miles to a use trail that climbs steeply up the canyon's east wall to the rock art panel.
The hike along the mesa enjoys great views of the Abajo Mountains and distant buttes to the north. From the rim fine views extend down into Grand Gulch and west across the canyon to Polly's Island, where a small ruin is located just below the rim of this isolated sandstone butte rising in the middle of Grand Gulch.
The hike along the mesa is completely exposed, offering not shade from the hot sun or protection in the event of a lightning storm. Be sure to carry plenty of water. Before starting the hike check on current road conditions and water availability at the Kane Gulch Ranger Station.
Elevation Profile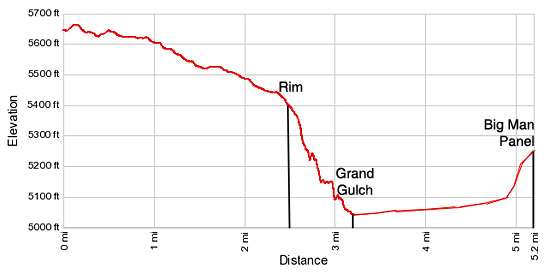 Trail Resources
Trail Detail/Full Description / Trail Photo Gallery / Trail Map
Basecamp(s) Information:
Grand Gulch / Blanding
Region Information:
Southeast Utah
Other Hiking Regions in:
Utah